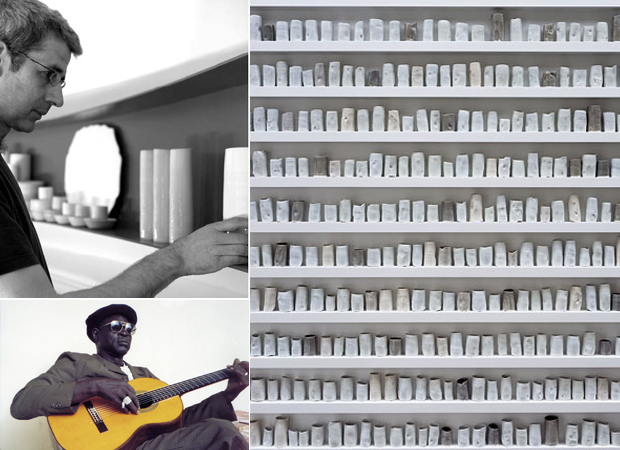 Edmund de Waal's Muse Music
The ceramic artist on the music that gets him in a creative mood
The weekend's almost here so here's another Phaidon Muse Music playlist to soundtrack your next few days. This week it's been chosen by ceramicist Edmund de Waal, OBE. De Waal made his first pot at the age of five after persuading his dad to take him to a ceramics class. At 17 he turned down a place at Cambridge University in order to serve an apprenticeship with the potter Geoffrey Whiting where he repetitively made hundreds of pots, practicing his craft like a musician might practice scales. You can listen to Edmund's playlist on Spotify but first, have a read of what he says about it.
"There's a lot of music in my life of all kinds but there's a particular kind of music I find very good to work to. You can get yourself into the loops of music and that makes sense to me. I did a huge porcelain wall - 500 porcelain vessels - and there are rhythms in that wall that completely come out of baroque music. More recently there's installations where things are in very minimalist, black lead-lined boxes, 12 of them in a row with the same number of vessels in each but they're arranged in different ways. That's the porcelain equivalent of Steve Reich's systems music! It's the same notes and the same tones repeated and just slightly different each time and it only makes sense if you've got all of it. One of them by itself is just a black box with a few pots in it."
_Keith Jarrett – The Köln Concert _ It's split into four parts and you can pick any one. It's all about immersion so this is the perfect music for me to work to because the way it moves and unfolds is a mixture of really cerebral intellectual conceptual 'thought-out-ness' and pure intuition. That tension between the programmatic and the spontaneous is fantastic and that's how I make. I have everything sorted out and thought through and then I sit down and make things. And it's that sort of pressure between what I think I'm going to make and what I actually make which is kind of Keith Jarretty - if I can claim that! He did it first but that's what I do in porcelain.
Bach (Glenn Gould 1955) - Goldberg Variations Bach is completely core to me and my listening when I'm thinking about things. Goldberg Variations is something I've grown up with and grown through and keep on growing with. I've got lots of different recordings of it and they are all interesting. But this first recording that Gould did is the one I keep coming back to. I guess there's a kind of austerity to it which for me is hugely important. It expresses just how rich things can be with a paired down approach. Gould brings it absolutely alive. It's the sense of an unbelievable intelligence being applied to music.
__John Adams – _Shakerloops: Shaking And Trembling ___ This is music to make to. It's got a very intense unfolding of an idea in it but it's done through seriality in a very, very beautiful way. So again, it allows me to make in a very interesting way. It allows me to be both present in the music and very absent in the music at the same time – if that doesn't sound incredibly pompous! We've got a minimalist studio built by these brilliant architects DSDHA so we have a light-suffused space with black concrete floors and I can tell you with this blasting out you couldn't hope for a nicer working environment.
Benjamin Britten – Prologue and Pastoral, Serenade For Tenor Horn And Strings (Peter Pears)_ _ There's a sort of acerbic quality to Benjamin Britten that speaks to me and what I do. It's a bit astringent, it's not easy on the ear. A horn and a tenor together is not an easy combination to have musically.
Purcell – D_ido And Aeneas (The Lament) _ I think this is the most moving piece of music you will find. This is voice and poetry coming together in the most powerful way possible. Actually it's kind of unfair to have this on a playlist because it makes you weep! It really does, its very kind of strong stuff.
Schubert _ – Piano Sonata Number 9 played by _ _Mitsuko Uchida ______ _ She's my favourite pianist. She's good on Mozart and Beethoven but she's just great on Schubert. She is the toughest pianist there is. I get the feeling that what she does with her music is take it apart and reconstruct it. She absolutely doesn't do the conventional take on the music. She makes it up again in live performance. Which is really rare, particularly with a famous bit of Schubert.
__Brian Eno – _Another Green World ___ I have lots of Brian Eno going on in the studio - glorious music that just fills the place up. With Eno you've got that kind of tension between someone who is highly experimental and will take on new bits of territory, whether it's music or rhythm or technology or film or performance or whatever – he'll just do something completely new with it. So you've got something quite tricky experimentally, but being done by someone who just delivers pleasure.
Handel – Messiah - But Who May Abide The Day Of His Coming Specifically the phrase 'For he is like a refiner's fire.' I especially love the idea of fire changing what you do, which is of course what we do with porcelain. It's about subjecting yourself to this refining fire, this process of change, this alchemical thing. It's about being in the fire and something different happening. Whenever I hear this it makes me feel so close to that whole visionary thing about what fire means.
Ali Farka Touré – Kala Djula My wife Sue works a lot in Africa and this is perfect big landscape music and completely personal for us. It's what we listen to on our journeys. I get a bit inarticulate when trying to describe this one!
Lemon Jelly – _Ramblin' Man _ It's about this nomadic guy and it's simply about voice and place and it's very funny –unintentionally, I think. It's got this great list of places - Kabul, Kentish Town, Koh Samui, Mandalay, Manchester and Malawi among them. Because of the amount of travel that's been going on lately in my life this song makes my children laugh. I was amazed to learn the first letters of the towns listed from Brixton at 4.10 secs to San José at 4.31 secs spell out the phrase BAGPUSS SEES ALL THINGS.
Listen to Edmund de Waal's playlist on Spotify.
You can also listen to these creatives' Phaidon playlists:
John Pawson
United Visual
Simon Fujiwara
Samuel Wilkinson
Alex Hartley
Brian Griffiths
Michele Howarth Rashman
George Condo
Martin Boyce
George Shaw
Karla Black
Piers Secunda
Mark Titchner
Chris Johanson
Haroon Mirza
Elizabeth Peyton
Wilhelm Sasnal
Nathaniel Mellors
Richard Harrison
Antony Micallef
Roger Hiorns