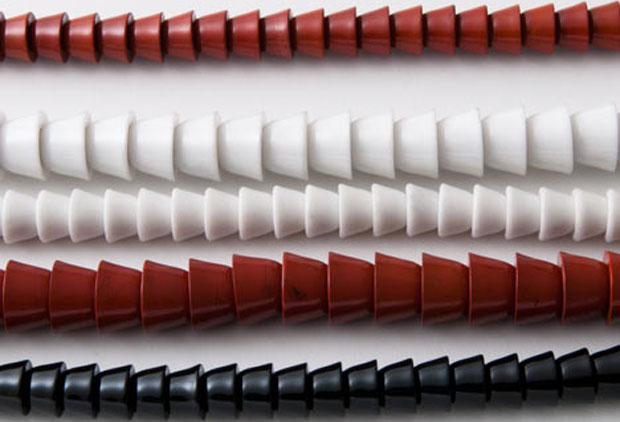 Bouroullecs reinvent the Stone Age with jewellery
Ronan and Erwan follow Ettore Sottsass, Konstantin Grcic and Naoto Fukasawa with Perles for Gallerie Kreo
Contemporary design gallery Kreo is in that most appropriate of Parisian arrondissements, the 6th. And along with a suitably arty address, it has a portfolio to be proud of: Ettore Sottsass, Konstantin Grcic, Naoto Fukasawa, Marc Newson, Michael Young, Hella Jongerius, Jasper Morrison, and Fernando and Humberto Campana have all exhibited there or designed something for the gallery. And now the Brazilian siblings are being joined by French brothers Ronan and Erwan Bouroullec, who have designed a range of necklaces for Kreo called Perles.
'Perles' means 'pearls' in English, however confusingly these trinkets are made of stone – blood jasper, black onyx and Carrara marble in a matte or shiny finish. "We had a profound desire to use stone in relation to our fascination with primitive jewellery," the Bouroullecs say. "Something direct but searching as well for delicacy in its fall and the relation to the body." The design of Perles means they are almost mini works of modular architecture, or at least of industrial design. Each piece of stone has been crafted into a bell shape, so that they slot into each other, creating a rigid choker rather and than a loose string of beads.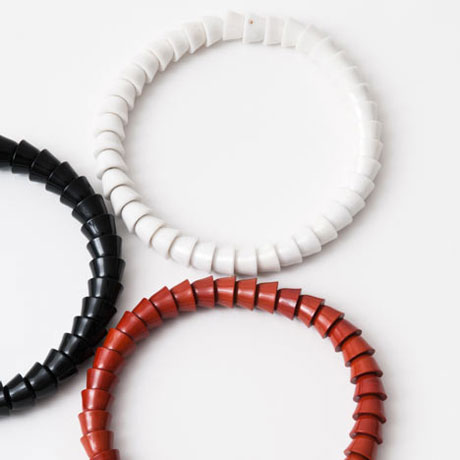 Perles come in three sizes, and although they are designed to sit snugly round the neck, somewht pleasingly, we can't detect an opening clasp. Perhaps these Perles are strung on sturdy elastic. These offerings for Kreo are not Erwan and Ronan's first pieces of jewellery. In 2003 they brought out Cloud, some white gold earrings for Biegel in Germany. And four years earlier they made a stainless steel necklace and headbands for Icelandic jeweller, Jenks, called Smak. So for avid Bouroullec fans, it's possible to be well-and-truly adorned in all their finery. Naturally you'll want to complete the look with a copy of our Bouroullecs book Works under your arm.