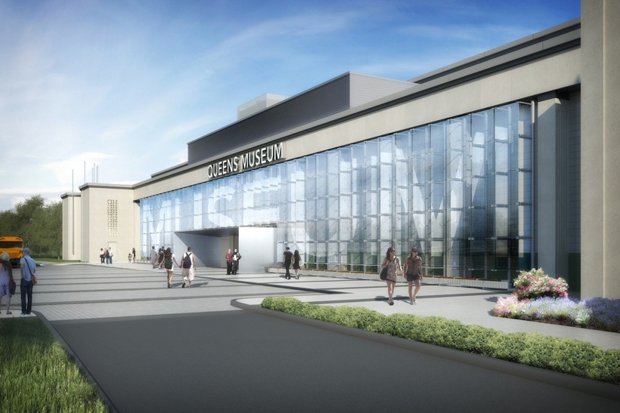 Grimshaw's Queens Museum of Art nears completion
He joins Aymer Embury III, Daniel Chait and Rafael Viñoly who've all worked on the New York City Building
The Queens Museum of Art in Flushing Meadows Corona Park has had an interesting architectural history. It's based in what's known as the New York City Building, which was constructed to house the New York City Pavilion for the 1939 World's Fair. The modern classical design (columns and all) was the work of Aymer Embury III, who was also behind Central Park Zoo.
The building got a thorough overhaul by Daniel Chait in the 1960s, as it was to once again house the city's pavilion for the 1964 World's Fair. That's when the Unisphere, a stainless-steel globe, a Queens landmark, was put up. Three decades later, it was Rafael Viñoly's turn, as the museum – which had moved there in the early 1970s, needed some suitably impressive exhibition spaces.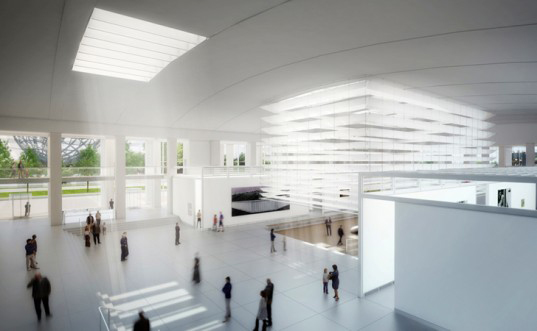 And now, London-based Grimshaw is doubling its space, adding new galleries, classrooms, public events spaces, a special branch of the Queens Borough Public Library, and the inevitable café and museum shop. There'll be extra 'back of house' space too, for art storage, exhibit prepping, and a wood workshop. This is a bit of a coup for Grimshaw, whose 100-strong NYC outpost opened in 2001.
"The expansion will allow the Museum to expand its permanent collection, which will at last have adequate space for exhibitions," say the architects.
The museum's organisers explain that the $65m project, "includes a new 220ft-long illuminated glass façade and entry plaza, a new entrance and expanded outdoor space and a generous skylit atrium in between".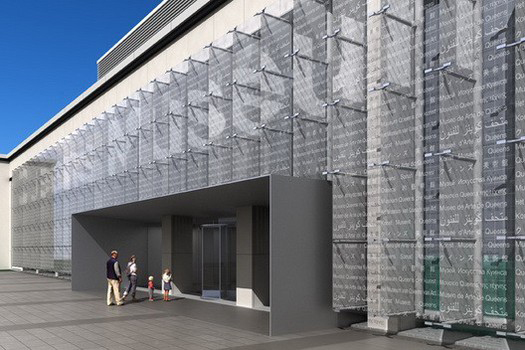 It's this new entrance which will make the biggest difference for museum visitors. The architects have moved it to the west façade and given it a vast canopy in stainless steel. Art lovers will be able to see for themselves, when the museum reopens in October.
Of course, there's one art museum that's always open and that's Phaidon's very own The Art Museum - 992 oversized pages featuring 2,700 works of art. Ten years in the making, this unique book was created with a global team of specialists in all fields of art, including curators and educators, who've collected together important works as they might be displayed in an art lover's ideal museum. Meanwhile, if you're interested in the work of the architects mentioned in our story why not learn more and browse our extensive list of architectures titles in the store.