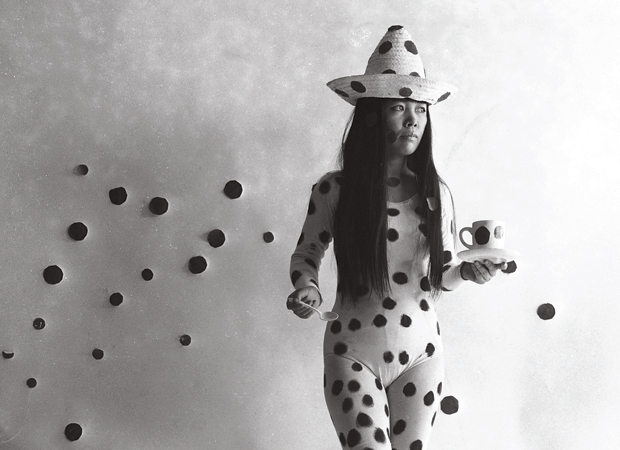 Yayoi Kusama's polka dots are the fashion trend for fall
The humble spot print is back thanks to leading Japanese artist
Phaidon featured artist Yayoi Kusama and her obsessive polka dot prints have become an unexpected inspiration for upcoming Fall fashion with creations from Stella McCartney, Marc Jacobs and newcomer David Koma referencing her art.
Kusama is famed for her flamboyant use of colour as much as the compulsive repetition she applies to her work; creating mirrored sculptures and abstract paintings which frequently use spots. She has experienced hallucinations and obsessive thoughts since childhood and, at her own request, lives in a mental hospital in Tokyo. Her first series of large paintings, Infinity Nets, were covered in nets and dots alluding to her hallucinatory visions. In 2006, she became the first Japanese woman to receive the prestigious Praemium Imperiale. In 2008, Christies sold one of her works for $5.1 million, a record for a living female artist.
"You are going to find it hard to avoid polka dots this season, said Melanie Rickey, Fashion-Editor at Large of UK fashion weekly Grazia. "Basically it's all about sex. Polka dots represent a charming, playful innocence but when are they done in rubber (as at Marc Jacobs and Louise Gray) or artfully placed atop a sheer base (as at Stella) then the effect really can be a bit mind boggling."
Follow the link to read about the trend on Rickey's Blog, Fashion-Editor-at-Large.
Read more about Yayoi Kusama:
Kusama: 'I promised myself I'd conquer the world'
The fantastical world of Yayoi Kusama
Yayoi Kusama designs London tube map
To infinity and beyond with Yayoi Kusama
Sign up to the Phaidon newsletter to get future updates.