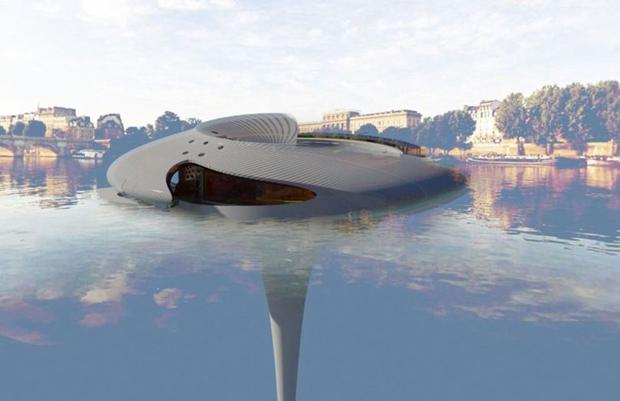 A Champagne bar to stop Paris flooding
Former Zaha Hadid employee Dr. Margot Krasojevic's new plan holds back the Seine, but lets the bubbly flow
London keeps flooding at bay with the iconic steel hoods of the Thames Barrier, installed by Rendel, Palmer and Tritton in 1982; Singapore is safe and dry behind its Marina Barrage; and New York is laying plans for its own storm surge barrier. And Paris? Well, one innovative architect has proposed Grand Cru du Siecle, a 'pavilion bar' to protect the French capital.
The shell-like concept consists of an enclosed, round Champagne bar, made of glass, which is set over a bell-like spillway. The idea is that the Seine's water would pour over the bar and into the spillway. This spillway is positioned under a moveable glass floor.

The designs are the work of Dr. Margot Krasojevic, a former employee of Zaha Hadid Architects, and something of a polymath. She describes herself as an architect, digital designer, university lecturer and psychoanalyst, and is known for using digital technology to explore the psychological effects of architectural materials and spatiality on people.
She's perhaps best know for creating Hanging Hotel/ Suspended Campsite for rock climbers for Holden Manz Wine Estate Cape Town in Massif de L' Esterel, in the South of France in 2011. It uses compound glass and a prism louvre system to alter how climbers see their environment and to stimulate different psychological experiences based on those subtle shifts in vision.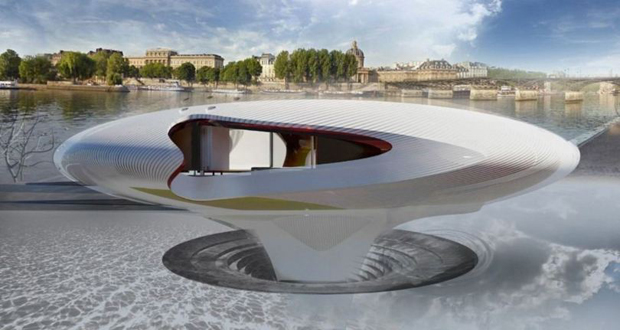 Similarly, for Grand Cru du Siecle, Dr. Krasojevic says the structure's skin provides support for the weight of the 'pavilion bar', hence the 'monocoque' or single-piece shell. The glass would also be etched, to give the whole thing "an ethereal feel".
It's very fetching and thought provoking, and a great place to get a drink, though it is unclear whether this is any more than a pipe dream. Though, of course, Hadid herself saw many of her early concepts stay on the drawing board. Let's hope we can raise a glass to, or indeed, inside this one, sometime soon.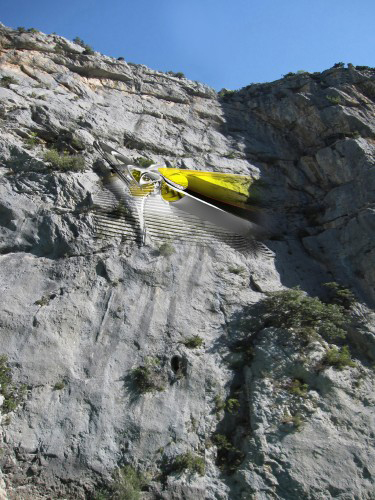 For greater insight into the way great structures are created, sign up for a free trial of the Phaidon Atlas, our peerless online architecture resource. For a glass more-than-half-full take on our environmental future, buy a copy of The World We Made, a speculative look at the globe in 2050. And if you're off to Paris, London, New York or Singapore, don't forget your Wallpaper guides.