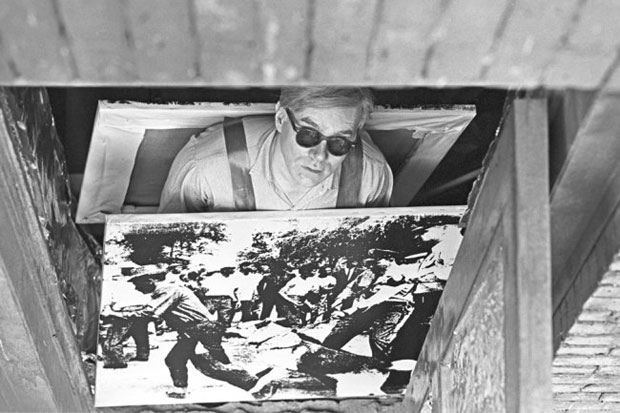 Warhol before his 15 minutes
New York's Site/109 gallery exhibits John Kennedy's portraits of Andy Warhol on the cusp of fame
For decades, fascinating portraits of a young, pre-superstar, Andy Warhol sat unseen in a beaten-up cardboard box in the archives of Florida-based photographer John Kennedy. Just before Warhol's fame hit the stratosphere, Kennedy took a portrait of the artist with what would become one of his most iconic works. It was just one of a series Kennedy worked on featuring artists who were building a name for themselves during the early 60s. (The series also included a shot of Warhol's contemporary Robert India with his most famous work – the 'LOVE' logo). Now, these photographs - along with 50 other silver gelatin prints of Warhol, around 30 of India's plus some of the artists' original works - have just gone on show at the Site/109 gallery in Lower Manhattan.
One of Kennedy's favourite rediscovered shots is of Warhol working at his famous Factory holding up a proof of a screen-printed portrait of Marilyn Monroe. "Piled up in the corner were 50-75 sheets of acetate," recalls Kennedy, "Andy said 'Those are proofs of my work'". One of those sheets turned out to be the transparent proof of the face of Marilyn Monroe – you may have seen the finished product. . .
For more candid shots that offer an insight into the life of Andy Warhol, Phaidon's A Year in the Life of Andy Warhol is an exclusive photographic diary of Andy Warhol's life in 1964-5. Fans of Warhol may also be interested in Andy Warhol Portraits, which features the print of Warhol's Marilyn.