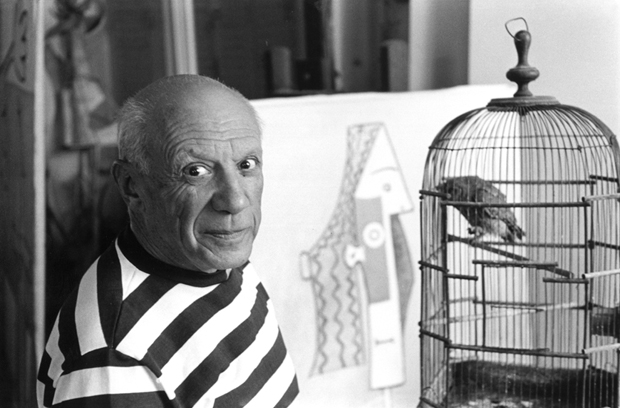 When Picasso met René Burri
On the anniversary of Picasso's birth, we take a look at a momentous meeting of two impressive talents
It's the anniversary of Picasso's birth today – a fine excuse (as if we needed one) to take a look at the photograph of him taken by one of our favourite Phaidon and Magnum contributors, René Burri. In 1957 when Burri's career was burgeoning, he heard that the great artist was in Nimes. René travelled to the south of France hoping, to find the world's most famous living artist. Before he knew it he found himself in a small room full of people in the Hotel du Cheval Blanc. Picasso was, as always, at the centre of the action, sitting in bed - laughing, singing and clapping. The evening extended to dinner and, with 13 people already around the table, René became the 14th in the party. His relationship with Picasso flourished from there and René photographed the great artist on various occasions.
The photograph above was taken later in that first year of their friendship, when Burri was on assignment for Du magazine and photographing Picasso at home in Ville La Californie, Cannes. In his trademark Breton stripes, with a pet bird and his own work in the background, Burri captures the man and the legend in a coy moment of private amusement. When phaidon.com was lucky enough to visit René at his home in Paris a few years back he showed us a handful of jaw-dropping photos – not all taken by him – of the great artist at work and play in his studio. From the collection it was clear how high a regard he held the artist in.
René revealed: "For me Picasso was the ultimate man. It took me some years to get close to him. He almost became my grandfather. He was a magician. He taught me that photography is all about how you approach an image. What you do and what you don't do. He inspired me to go beyond what you think is in front of you. He said "it took me all my life to draw like a child." That's how I feel. It's taken me all my life to take a good picture!"
Burri himself died within days of Picasso's birthday, on 20 October 2014, yet he work lives on. You'll be pleased to hear his Picasso photo is included in our René Burri collection René Burri: Photographs, available here. You can also buy a stunning collection of his colour work, René Burri: Impossible Reminiscences, here.