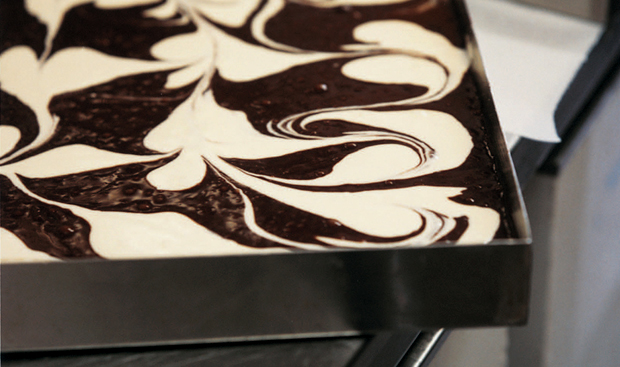 Brownie cheesecake
A recipe from Breakfast, Lunch, Tea
Makes: 15-20 squares
Ingredients:
250g (generous 1 cup) unsalted butter, plus extra for greasing
250g (9 ounces) roughly chopped chocolate
6 eggs
380g (scant 2 cups) caster (superfine) sugar
1 teaspoon natural vanilla extract
150g (1 cup) plain (all-purpose) flour, sifted
Pinch of salt
For the cheesecake mix:
125g (generous ½ cup) ricotta cheese
50g (scant ¼ cup) cream cheese
2 tablespoons caster (superfine) sugar
Splash of natural vanilla extract
1 egg
5 teaspoons double (heavy) cream
1 tablespoon flour
Method:
Preheat the oven to 180ºC/ 350ºF/Gas Mark 4. Butter a 20 x 28cm (8 x 11 inch) baking tin and line it with parchment paper.
First mix all the ingredients for the cheesecake together in the following order: the cheeses, sugar, vanilla extract, egg, cream and flour. Make sure there are no lumps in the mixture, and set aside.
Put the chocolate and butter in a heatproof bowl, place the bowl over a saucepan of simmering water and cook over a low heat until melted and smooth. Remove from the heat and cool slightly.
In another bowl, beat the eggs with the sugar and add the vanilla extract. Beat for only a few minutes till the mixture is well combined and just beginning to froth – it must not get to the light white stage.
Pour in the melted chocolate and butter, and finally fold in the flour and salt. Pour the mixture evenly into the baking tin, and swirl in the cheesecake mix.
Make any design you want but don't mix in too much. Bake for about 25 minutes. Be very careful not to overbake – brownies must be a little moist in the middle.
The cake will continue to cook after it is taken out of the oven, so don't worry if it seems undercooked. Cool in the tin, and cut into slices when cold.