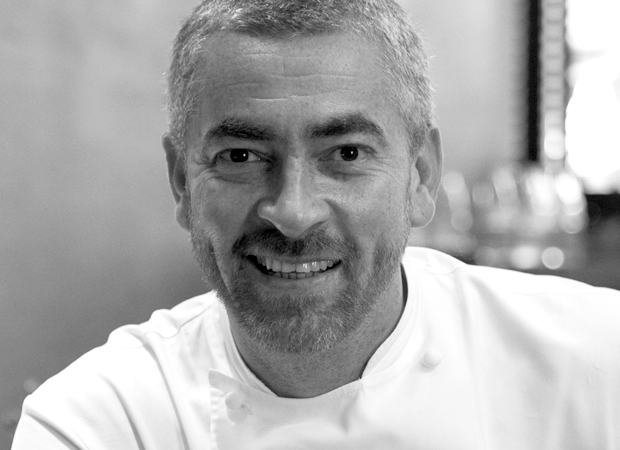 Coco chef close-up: in the kitchen with Alex Atala
The Brazilian chef describes his approach to cooking using responsibly sourced Amazonian products
When Brazilian chef Alex Atala opened D.O.M. in São Paulo he raised the bar. Working with indigenous ingredients such as hearts of palm and cassava, Atala is giving the Brazilian melting pot of amazing ingredients and cultural blends a clear identity. At D.O.M. he fuses Brazilian heritage with rigorous French cooking techniques.
We caught up with Atala, who was selected by Shannon Bennett as one of the most significant young chefs working today for Coco, Phaidon's comprehensive book on who to watch in the culinary world today. Here, the chef describes his approach to cooking, his role in environmental conservation and explains his creative process is much like the way gnocchi is made.
Q: You were selected by Shannon Bennett in the book Coco as one of the most significant chefs working today. What does it mean to be included in such a book?
I believe it's a dream and the result of my work. It's a sort of recognition I did not expect to achieve and it comes as a great present in my life.
_Q: How has your approach to cooking changed over the years since your inclusion in Coco?_
One of our greatest dreams at D.O.M. is still to deliver an experience to every patron. The experience we propose nowadays at the restaurant is about the Brazilian flavours. One might have visited Brazil many times and tasted the typical Brazilian cuisine, but what he or she will find at D.O.M. is a Brazilian experience, an haute cuisine with undeniable Brazilian flavours, which transforms the dinner into this unique event.
Q: Which of the other chefs included in the book do you feel closest to?
I have a very good relationship with the chefs Andoni Luis Aduriz, Massimo Bottura, Pascal Barbot and René Redzepi. I think we all have the same aspirations and we make a cuisine with many things in common. I believe that one of the things that unites us is the will to make a modern, creative cuisine, but always to talk about our origins, our culture and our products.
Q: Which recipe are you most proud of creating or re-inventing?
I can think of many recipes but there is one that is maybe more emblematic not only because of the taste, but also by its proposition: Okra, Okra, Okra. It's an abundant vegetable in Brazil, many times forgotten and depreciated, relegated as a second-class ingredient. This declination of okra shone a new light on the vegetable, giving it a recognition not even I was expecting when the dish was created.
Q: Good food and cooking is a mixture of many things, what elements do you feel underpin good cooking?
Good humour.
Q: Can you tell me about your approach to cooking and creating new recipes?
Generally speaking, 60% of a good dish comes from a great ingredient. And, most of the time, when I am driven to make a good recipe, it's the ingredient that starts the whole process.
Q: Can you describe your creative process, do you start from the same point or do different dishes always require a different approach?
I like to explain jokingly that my head works like cooking gnocchi: you pick a big pan, fill it with boiling water and throw the pasta inside, and watch them float in a disorganized manner. My creative process is just as hyperbolic, incoherent and creative in its essence.
Q: How has the idea of sustainability become more important in your cooking?
From using more and more Brazilian ingredients, I've learned that we achieved benefits that, many times, were not just part of the dish: the valorization of the ingredient and of the culture and, especially, the chance to help an unsupported population that was still harvesting that ingredient. Nowadays, we have at least six ingredients on D.O.M.'s menu with social and environmental benefits that are just as high, if not higher, than the excellent quality of the products, such as the pupunha heart of palm, black rice, all the Amazonian products, the tucupi, the manioc products and the priprioca (a typical fragrant Amazonian root generally used by the local cosmetic industry, and whose culinary use I started to research).
Q: Who do you most admire in the world of cooking today?
I admire many people. Each chef causes a different impact in us or leaves behind a different message because of his or her work. Thus, I can't help thinking about Joël Robuchon for all he was and is, and all he has done: to renounce his three "Michelin" stars, to close the restaurant that was the gastronomic temple of the world and reinvent himself with L'Atelier. I think Robuchon is endowed with an incredible knowledge, intelligence, and daring. To be able to recreate oneself, I believe, is a unique ingenuity. Ferran Adrià must also be mentioned for all his contribution and, especially, for all his generosity. If the word "generosity" can be used to define a chef, then it totally belongs to Ferran. Latin America is nowadays in the gastronomic circuit in good measure thanks to his interest and to the praise he gives to cuisine outside Europe. And I will always adore the generation of chefs to which I belong, true friends and brothers: Andoni, Pascal, Bottura, René… They are great, very generous friends. There is a constant exchange of ideas and mutual help between us, which helps a lot.
Q: Who would you most like to cook for and why?
I can think of a lot of historical moments I would like to have cooked at – such as the Last Supper, for example! I would have liked to cook for Elvis Presley after one of his gigs. Even though he was a glutton who indulged in hamburgers and ice creams, this would be an experience I would like to have had.
Q: Where do you like to eat on a night out?
I like to eat simple things – I am fond of grilled fish and seafood, for example. I work with food all the time, so when I go to friends' restaurants, it almost ends up feeling like work when I just want to have fun! I like to say I work technically and eat emotionally, and I don't want to lose that.
Q: What's your advice for aspiring chefs?
Work. If it was easy, everyone would be doing it.
Q: What do you wish you'd known when you were starting out?
That I would need to work more!
Q: What's your view of today's restaurant community and the state of the food industry at large?
I believe that the food industry and especially the figure of the chef has a worldwide reputation. It stuns me, it almost scares me, but I believe this attention is welcome. To use a Brazilian saying, we shot what we've seen and ended up hitting what we didn't see. We are living a historical culinary moment, and that's an important thing. The greatest aspiration, as I see it, is to be not only stars but also agents of change. I believe that gastronomy can indeed be a tool for sustainability and the conservation of the environment. I think the greatest bond between nature and culture goes through the kitchen. This extra role for the chefs is the way of the future.
Q: How do you see the future of cooking?
The chef used to be the leader in the kitchen. As the years passed by, the role received other attributes. Soon the chef had to learn how to administrate the restaurant, how to talk in public, how to give classes and write books, how to do radio and TV shows. The chef became a multitasking professional. I believe the future of cooking lies with this change, the chef becoming more than a cook and gaining the conscience of the social actions that can be done in the exercise of the profession.
Alex Atala, thank you.