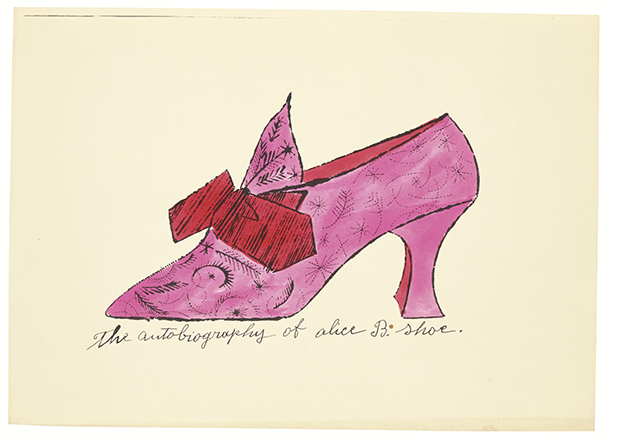 Warhol's Shoes go for twice the price at Sotheby's
And this is how those infamous shoe drawings helped him on his first steps to becoming a world renowned artist
Andy Warhol's career began, in June 1949, with shoes. "On his second day in New York City, Warhol earned a commission from Tina Fredericks, artistic director of Glamour magazine, who admired his portfolio and asked what he could draw," writes the curator and art historian Joseph D Ketner II in our Andy Warhol Phaidon Focus book. "Warhol boasted, "I can draw anything." Friedricks gave Warhol his first commission to illustrate women's shoes."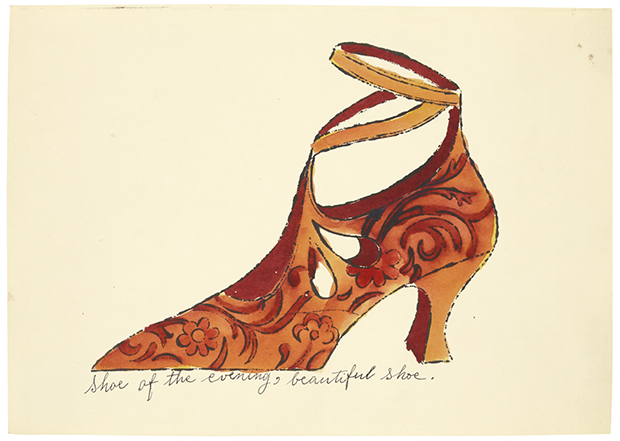 Friedricks' commissions famously launched the 20-year-old artist's career, as a fashion illustrator with a talent for footwear. Ketner writes that Warhol "became a 'success' over the next decade as the leading illustrator of women's clothing and shoes, earning him design awards, countless contracts and a handsome income."
The artist served as chief graphic designer for the I Miller Shoe Company in 1955, and in 1956, he combined his obsessions with shoes and celebrity in his Golden Slipper gallery exhibition; personifying famous people through famous footwear.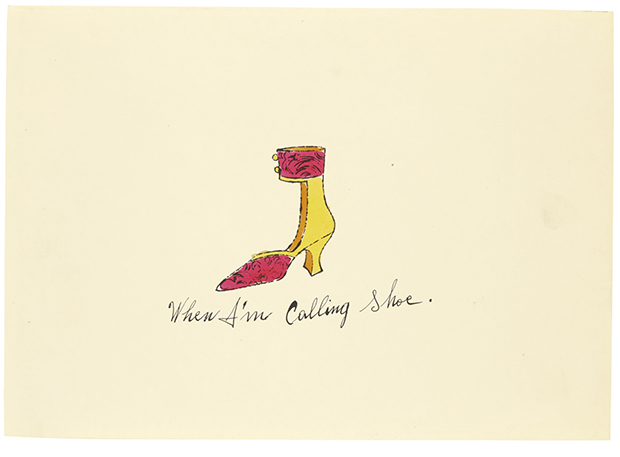 Sotheby's hit lot from yesterday's Prints and Multiples sale in London, dates from this time. This portfolio of 16 offset lithographs, entitled A La Recherché du Shoe Perdu, was sold for £293,000 (£420,807; €371,875), nearly double its high estimate of £150,000 (€190,380; $215,430). Each image carries a funny caption, punning on popular song lyrics and film titles such as "I dream of Jeannie with the light brown shoe" and "Dial M for shoe", an early sign of his pop-culture obsession. Warhol's mother wrote the lettering on these works, and each sheet carries stamps from both the Warhol Estate and the Warhol Foundation for the Visual Arts.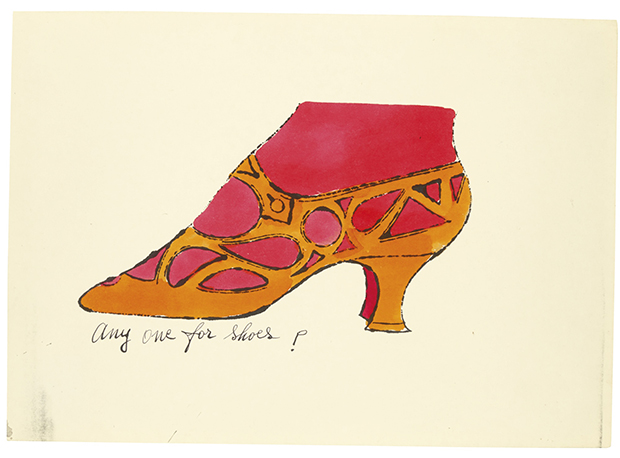 While the pieces look quite unlike Warhol's later work, Andy actually produced his shoe prints in a similiar, assembly-line manner, echoing his later practice at the Factory. "Essentially a reproductive technique, he made the initial drawing on a sheet of water-resistant paper, which his assistants then wetted and transferred to other sheets and hand-coloured," writes Ketner.
While Warhol returned to footwear in later life – consider his 1980 print, Diamond Dust Shoes – the collapse of the fashion illustration market in 1957 forced Andy to find new sources of income, and embrace the role of fine artist, albeit one with commercial fluency and a feel for popular, mechanical reproduction. In this sense these shoe illustrations are important, as they not only capture the artist's early career, but they also include the early pop qualities which Warhol would later alter art history.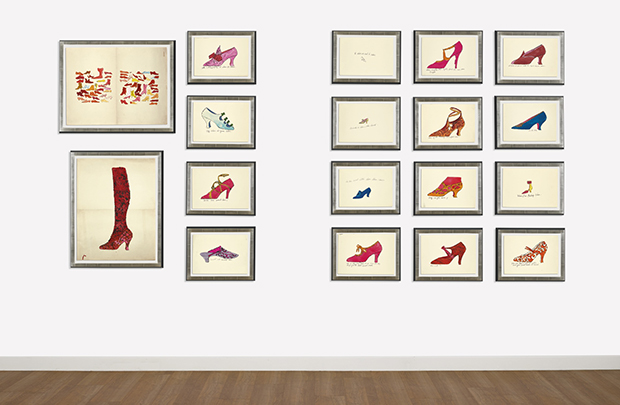 For greater insight into this important artist consider our wide array of Warhol titles, which include this gift set, this compact introduction, this massive overview, this celebrity portrait collection, and this comprehensive, multivolume catalogue raisonné.