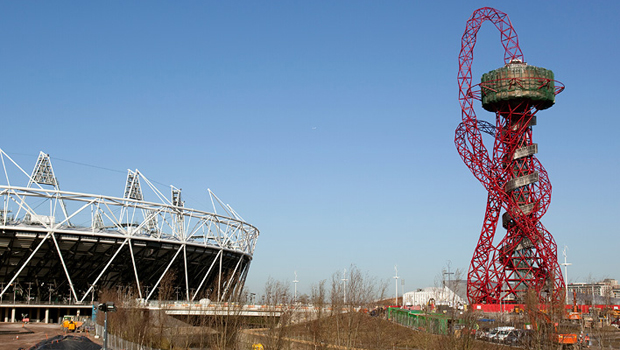 Anish Kapoor's 'Tower of Babel' completed
As London Olympics 2012 beckons, its defining structure becomes Britain's largest piece of public art
With the 2012 London Olympic Games fast-approaching, we thought we'd take a look at some of the architecture that will be dominating global TV screens next year. We kick off the first in an occasional series with a look at Anish Kapoor's Orbit Tower (or, to give it it's full and rather unwieldly name, the ArcelorMittal Orbit Tower) work on which is due to be completed this week.
Back in 2009 when plans for the London 2012 Olympic village began to formulate, the city's Mayor, Boris Johnson, launched a competition to give the area, in his own words, "something extra" - the distinctive urban profile needed to give the games a defining, iconic image.
From a total of 50 proposals (including a shortlisted design by Anthony Gormley) it was the British artist Anish Kapoor who was selected as the man for the job. Renowned for his monumental installations and architectural designs, Kapoor's steel Orbit Tower exemplifies his continuous ability to conjure awe-inspiring large-scale and unique creations. As you can see, Orbit has come a long way since Kapoor's initial drawings (though these are quite beautiful in themselves).
Funded by steel magnate Lakshimar Mittal and created in partnership with engineer Cecil Balmond, the 1,400 tonne steel structure now stands 115 metres in height (22 metres taller than The Statue Of Liberty) and boasts the title of Britain's tallest public sculpture. According to Kapoor the twisting, looping and leaning structure (described perfectly by Tate director Nicholas Serota as a "sculpture-cum-tower-cum-engineer feat") was inspired by both Eiffel and Tatlin's infamous steel tower designs.
Balmond, working on the metaphor of an orbit, envisaged an electron cloud moving, to create a structure that appears unstable, propping itself up, "never centred, never quite vertical".
Visitors will not only be able to soak-up views of the city from one of the two observation platforms in Orbit, but also enjoy, in Balmond's words, the "cathedral like" space inside the colossal structure.
Inevitably for any contemporary, large-scale, public design, Orbit has been greeted with mixed reviews, a fact the mayor acknowledges. "Some people say we are nuts, in the depths of a recession, to be building Britain's biggest ever piece of public art but I am certain this is the right thing for the Stratford site in games time and beyond."
Kapoor says one of his references was the Tower Of Babel. "There is a kind of medieval sense to it of reaching up to the sky, building the impossible. It's a long winding spiral that aspires to even go above the clouds. It has something mythical to it."