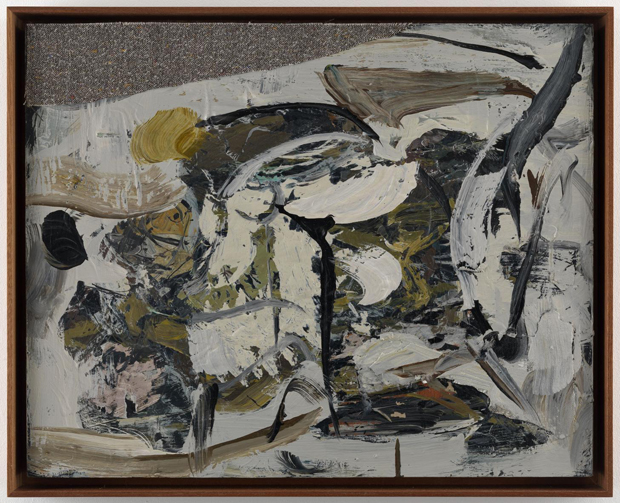 Inside the mind of Katy Moran
Exploring the creative processes of artists featured in Vitamin P2
Katy Moran's modestly sized canvasses are painted joyfully with gestural strokes. Though the images are abstracted from their inspirations – torn pages from magazines and mobile phone snaps – Moran's paintings are expressive, becoming something entirely different from their subjects. Her works are piled with other elements such as inlays, cut-outs and torn paper. The elements she adds work in layers of narrative. "The point when I see something is when they are done," she says. The precise names she gives her work – such as house (2009) and Clown Face (2009) - may lend the abstract pieces a clear meaning, although it has been argued that they could also be red herrings. We caught up with the London-based painter to discuss the relationship she has with her studio and why painting is still exciting.
Who are you?
A painter from Manchester and I'm now living in London. I'm with Stuart Shave/Modern Art and Andrea Rosen Gallery
What's on your mind right now?
Food. I'm always thinking about my next meal then, 'How quickly can I get back into the studio?'
How do you get this stuff out?
More slowly than I have done in the past. I find it's just as important knowing when to leave the studio as it is knowing when to stay. The habit of returning every day, with fresh eyes and nudging things along is what I have tried to develop. My work comes from an accumulation of focused sessions and decisions. I am discovering patience and slow, continued involvement, which I think will be integral to further work.
How does it fit together?
Like words in a sentence. Cross-pollination between works. Things tend to happen in a batch or a sequence.
What brought you to this point?
A tutor at college always talked about the difficulty of sustaining a career. It is something that constantly needs to be assessed and worked on. It's like stopping a relationship from going stale. No one can help you with that. It's such a personal thing. 'How am I going to stay interested, challenged and excited by what I do? How am I going to nurture my work so it keeps fulfilling me for years to come?'
Can you control it?
Painting's exciting - it's about pretending you are out of control, trying to introduce accident, chance and things that are unplanned that interest and surprise you more than anything you have consciously or intellectually conceived. Being the only person making the work means I am ultimately in control. I am in charge of every decision made.
What's next?
Pushing forward. I have some collage work on the go but I am also thinking about some straight painting again. I am interested in intensely built up detail and pattern.