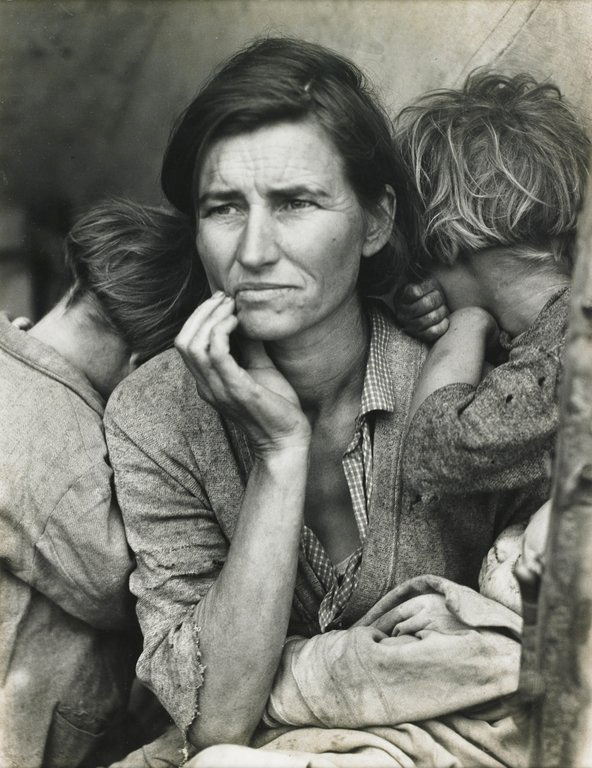 Dorothea Lange's Migrant Mother at Bonhams
British auction house's autumnal US photography sale is filled with classics - including this one
There are many highlights in Bonham's autumn photo sale, due to be held on October 30th in New York. Yet lot 20, a flush-mounted gelatin silver print, probably printed mid-1950s, of Dorothea Lange's Migrant Mother, Nipomo, California, 1936, is perhaps the most famous image going onto the block. This image of a 32-year-old farm labourer and mother, shot by Lange under the auspices of US Depression-era government department, The Resettlement Administration, was seen to capture the bleakness of life in The Dust Bowl.
Among the 137 images on sale only one, a signed and number Ansel Adams print – is expected to fetch more than Lange's image, which has an upper estimate of $50,000 (£31,000). Other, more prominent prints of the same image have sold for much more, so it certainly seems a good price for a valuable piece of photographic history. Bonhams list the provenance of the photo as coming "from the family of the artist; to the present private collection".
There's plenty of other noteworthy images in the Bonhams sale, from Brazilian street scenes by much-loved Phaidon author René Burri, and early junkie reportage from the hipsters' favourite photographer and film maker, Larry Clark, through to 1900s platinum prints of native Americans by rank A. Rinehart and fine art images by the likes of Cindy Sherman and Wolfgang Tillmans. And if you haven't the capital to back up a bid on the Migrant Mother, then try our Dorothea Lange book, a great introduction to the work of the late American photographer. And Art Info has a great story on the price movements of Dorothea Lange's photographs.