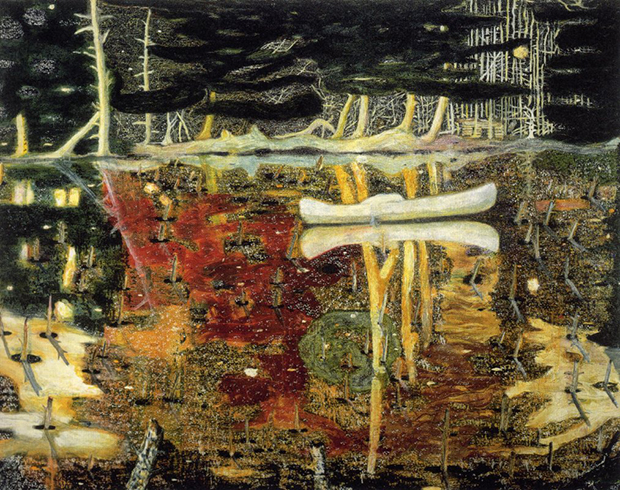 From Book to Bid – Peter Doig's Swamped
Adrian Searle reveals how horror film Friday the 13th inspired this painting up for auction at Christie's next week
This season's big post-war and contemporary art auctions are coming up at Sotheby's, Christie's and Philips in London and New York this week and next. There are some great works going on the block, many with interesting back stories. With this in mind, we thought you might appreciate some insight into a few of the lots, courtesy of our wonderful catalogue of contemporary and modern art books.
Yesterday, as part of the series From Book to Bid, we highlighted author Paul Moorhouse's take on Cindy Sherman's Untitled #470, up for auction at Phillips' evening sale in New York on May 14. Today, we're focusing on Peter Doig's 1990 painting, Swamped. It's lot 5A in Looking Forward to the Past, Christie's evening sale of art spanning the years 1902 to 2011, held at the Rockefeller Plaza auction house in New York on Monday 11 May.
The Guardian critic and Phaidon author Adrian Searle pays particular attention to this work in our Doig monograph. Swamped, like so many other Doig paintings, depicts a canoe. Such shallow-bottomed boats have featured in the painter's works for years, and Searle begins by looking into the origins of this motif.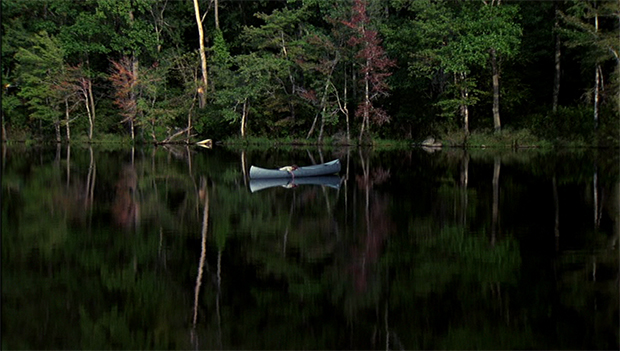 "One evening in 1987 Doig was at his father's house in Grafton, Ontario, watching Sean Cunningham's low-budget 1980 horror movie, Friday the 13th with his sister. 'I saw this scene and went out to the barn and made a painting of it that night. The funny thing about Friday 13th is that it was the only painting I ever made that had a direct reference to a movie, but somehow it became part of the 'official' story. People love a hook like that, so they like to think you make paintings from horror movies. In fact it was the least horrifying moment in the film. It's more like a romantic dream when you remove it from its context.'
The subject seems inauspicious, innocuous even, yet it was the first of many that Doig was to produce, up to the present day, of canoes and boats on water. As much as it might return us to Cunningham's movie, the canoe almost inevitably leads back to George Caleb Bingham's 1845 Fur Traders Descending the Missouri, a painting described by Robert Hues as 'hauntingly weird.'"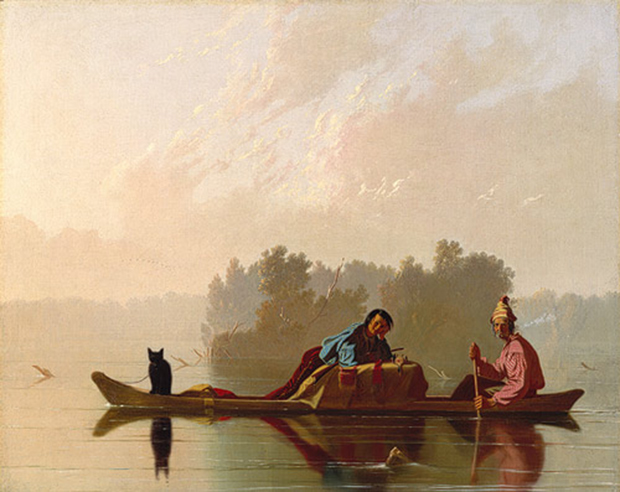 The artist went back to the image many times. Yet, as time went on, so the lake scene changed, as Searle explains. "In 1990 Doig returned to Friday the 13th with Swamped. Like Bingham's painting, it too is 'hauntingly weird'. Half submerged, rotting stumps poke through the floating scum and mats of blanket-weed on the surface of the lake. The far bank is a tangle of dead trees, fallen trunks and thickets of brushwood, with a cabin among them in a clearing. There is a feeling of ripe decay. Thicker, half-mixed paint is scrubbed over thin, the reflections in the surface half-drowned by an insistence on the factual matter of paint, which itself has both the wetness and transparency of water as well as sitting on the surface of the painting in much the same way as rafts of weed and scum sit on the surface of a pond. There is a confusion of surface and depth, distance and proximity, materiality and illusion. Drifting through the painting, a detail among details on the open water, is a white canoe with a body slumped in it."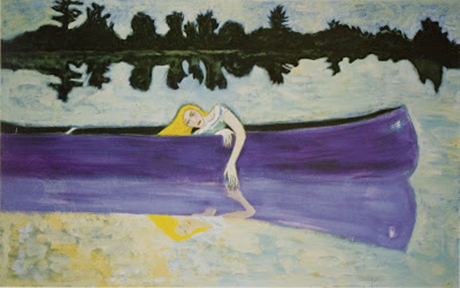 As Searle explains, the subject, treatment and experience of viewing the work is captured in its title. "Swamped refers as much to the paint itself – and to the variety of its handling and quantity of touches with which Doig has built up the image – as it does the swampy lagoon. The painting presents us with a different dream-like reality, contiguous to that of dry land, or the waking world, but one that is constantly shifting, mobile and shapeless. Swamped also swamps us, inducing in the viewer something like a sense of drowning in the indeterminacy of its details and layerings."
What an engaging creation, pulled for a few frames of celluloid and transformed into something far more rich and strange, by this important contemporary artist.
If you're bidding on the piece we wish you good luck. If you'd like to learn more about Peter Doig order a copy of our Doig monograph, and if you'd like to hang an edition on your wall take a look at this limited-edition Peter Doig print on Artspace.