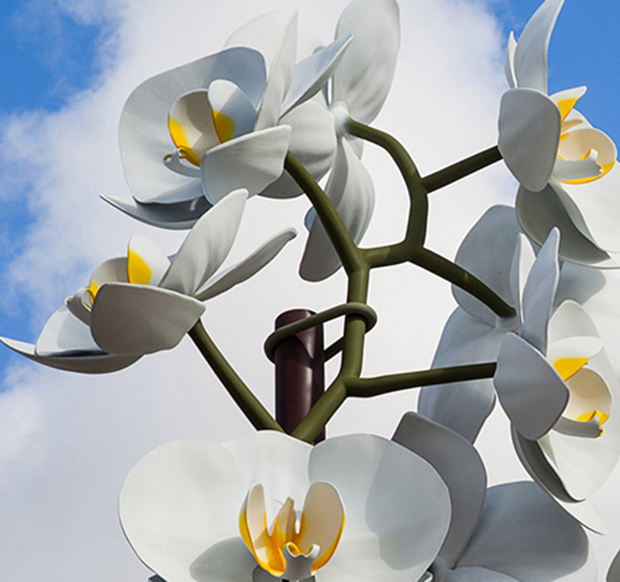 Isa Genzken unveils monumental fake flowers in NY
To mark the arrival of Two Orchids in New York, we examine the artist's take on nature, art and architecture
Here's an unusual line to drop into the conversation when approaching Isa Genzken's Two Orchids, on view at 60th St and Fifth Avenue, beside Central Park, in Manhattan.
"Art and architecture should avoid all Fascistoid tendencies." it's a belief Genzken made public in her Statement Two, an artist edict from 2005. "They should go along merrily and cheerfully, light-heartedly and intelligently."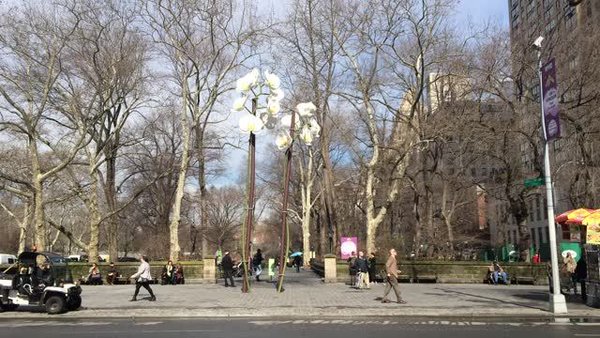 That view seems to sum up her her Two Orchids, a pair of thirty-foot (ten-metre) high pair of flowers that were unveiled yesterday on the Doris C. Freedman Plaza in New York, and will remain on display until 21 August, as part of the city's Public Art Fund.
The public works obviously mimic pretty biological forms, as did Genzken's Rose II sculpture, originally conceived in 1993, later unveiled in Manhattan's New Museum in 2007, and now on display at MoMA's sculpture garden.
Yet these orchids, just like her single red rose, also resemble the kind of mass-produced fake flowers shoppers can find in discount stores across the globe. These once rare natural forms can be bought for next-to-nothing, and that interests Genzken.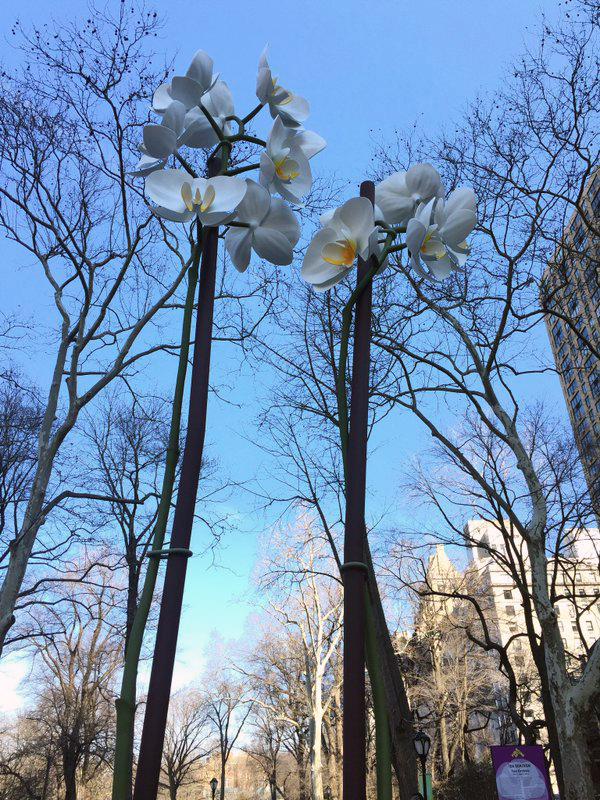 In our monograph the artist describes how she has become attracted to the "formal language of cheap materials and mass production. I'm not only interested in what they portray, but rather in the formal aspect of how they are made. And they come from all over the world: one component is from Taiwan, the next comes from Mexico and the third from somewhere completely different."
Genzken herself was born in Bad Oldesloe, northern Germany, in 1948, and grew up coming to terms with the wreckage of the Second World War. The artist disliked much of the rational, austere, modernist post-war architecture that sprang up around her; one series of wilfully amateurish sculptures from 2000 expressed this simply in its title, Fuck the Bauhaus.
"There are certain themes which Genzken returns to again and again," as the Tate Britain director, Alex Farquarson, puts it more delicately in our monograph. "One is the legacy of modernism, in terms of art architecture and design: her practice is in perpetual dialogue with the built world, not least when her sculpture extends into the public realm. Each work, on some level, speaks of the relationship between the individual and the world."
Sometimes, Genzken's art is negative, yet, as Farquarson observes, "recent series of work have provided more over commentary on socio-political events, ranging from the affirmative to the scathingly critical."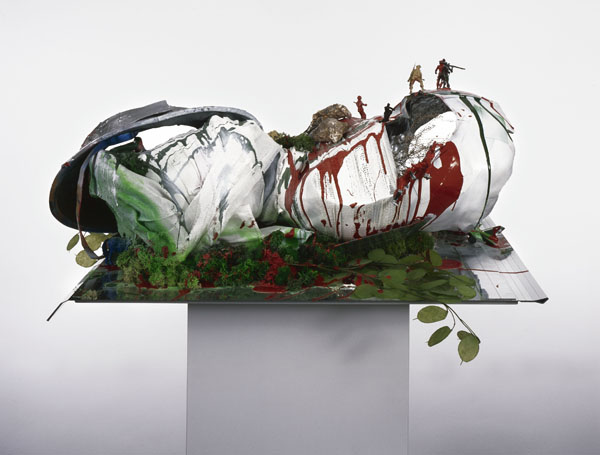 While she has produced nightmarishly grave sculptures featuring dime-store gewgaws, such as her Empire/Vampire series from 2003, Two Orchids feels like a more positive, affirmative work.
The artist, although based in Berlin, the artist harbours a great love for NYC. "To me, New York had a direct link with sculpture," she said around the time of Rose II's unveiling, "it is a city of incredible stability and solidity."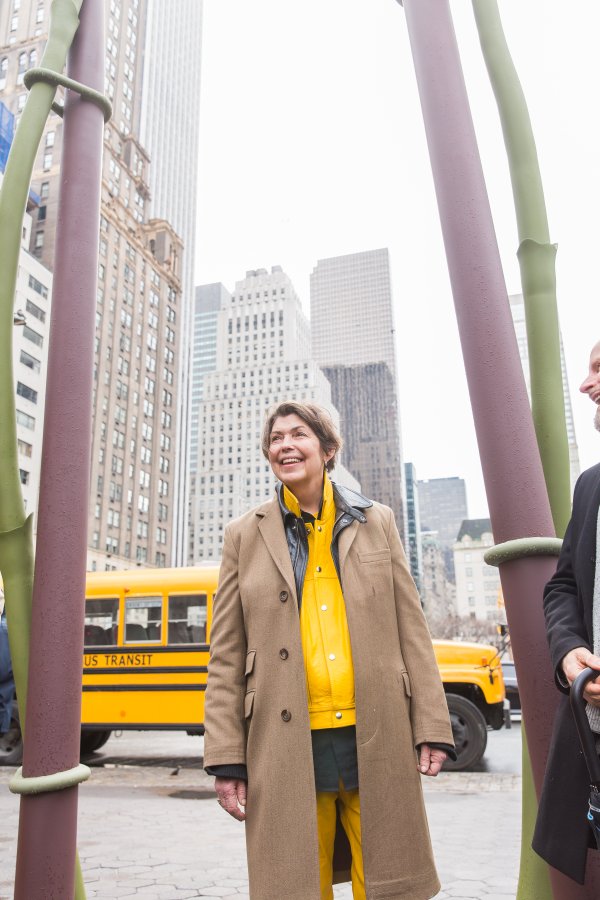 Genzken's sturdy, huge orchids seems to complement this, reminding us of once rare flowers, now machine made, commonplace, and only marginally less pretty for it. As the Public Art Fund put it, "the mass-produced white orchid has become the quintessential flower of our age: global, accessible, and open to interpretation."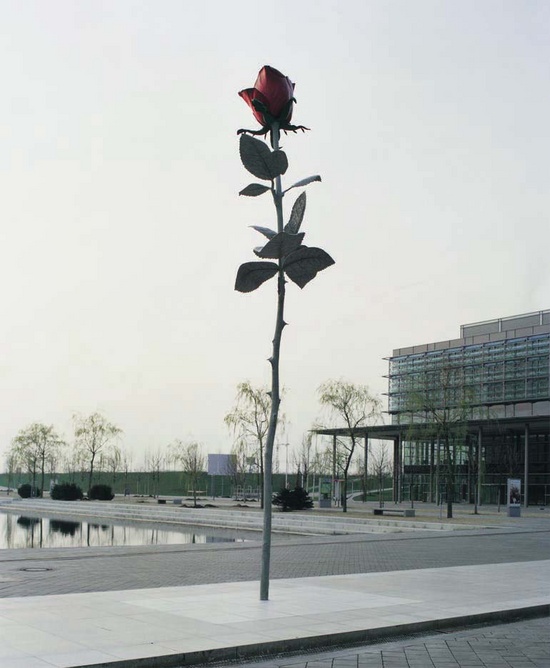 To find more go here, and to inform your own, personal interpretation, buy a copy of our monograph, which features Genzken's 1997 sculpture Rose, installed at Fair Leipzig on the cover.