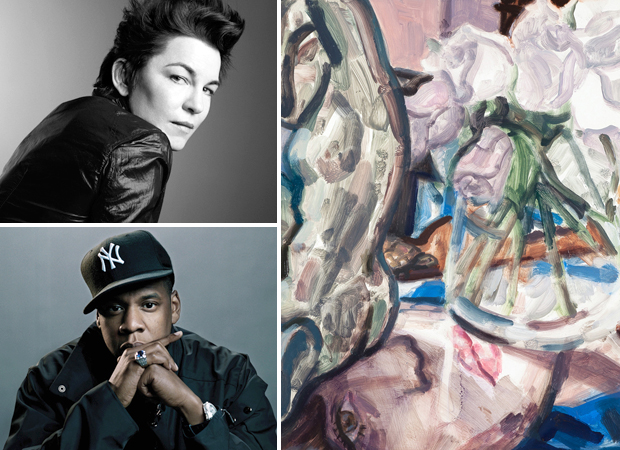 Elizabeth Peyton's Muse Music
The American painter on the music that gets her in a creative mood
It's Friday which means it's time for another Phaidon Muse Music playlist. This week it's chosen by the very wonderful Elizabeth Peyton who's chosen 10 songs to soundtrack your weekend.
Peyton has been credited with infusing the ancient art of portraiture with new life. Musicians, royalty, artists and friends are the magnetic subjects of her oil paintings, drawings and watercolours. According to Iwona Blazwick OBE, Director of the Whitechapel Gallery, who writes most eloquently about her in Phaidon's monograph, Live Forever, "The power of Elizabeth's paintings rests partly in the tension between a modesty of scale and subject matter, the barely containable energy of her mark-making, the flat rawness of her sumptuous colours. And the volatility of her compositions."
Her subjects have included Noel and Liam Gallagher, Jarvis Cocker, Pete Doherty and Kurt Cobain and she designed the cover art for a Suede Best Of last November. You can listen to Elizabeth's playlist on Spotify, but first read what she has to say about it.
"I listen to music all of the time. It is a huge inspiration to me. There is emotion in it that is immediate and transcendently human but at the same time not always literal. Mostly I listen to music in the studio - sometimes the same song or CD for days and days. When I have people over for a sitting I like to put on a band or musician I can have on for hours so the mood is continuous. Usually this turns out to be David Bowie or Bob Dylan or in the last year, the Ring."
Jay-Z - Empire State Of Mind Today I was wondering is Jay-Z more effective than Obama when he has the Brooklyn Nets (concert venue) going? Will he change the life of NYC more than Bloomberg? Jay-Z is the King. New York would be such a different place without him. This song just says it all. Place and time and knowing where and who you are in it.
David Bowie - Sweet Thing/Candidate/Sweet Thing (Reprise) This song has so many David Bowies in it. It's like an opera where he is singing every part, his voice is everything. I think a lot about David Bowie. I listen to his music for hours at a time in the studio. Somehow it seems trite to try to say how inspiring he is, how beautiful his music is; because it's just so much more.
The Strokes - You Only Live Once I love Julian Casablancas's voice. I don't know what he's singing but I like how it makes me feel. I love the ache in this. I spent a good part of the 2,000's painting along to The Strokes.
Nirvana - Here She Comes Now What to say? I listened to so much Nirvana at a particular time its hard to hear those songs now. I don't have all of those memories attached to this song though it has everything I love about Nirvana in it: whispering, screaming, crazy beautiful melody and then all the distortion.
Patti Smith – Frederick For me this song is love, it's so powerful. Sometimes I listen to songs on repeat in the studio to stay in a particular emotion. This is one of them.
Notorious BIG - Microphone Murder With all of these I could have listed a lot of others with just as much enthusiasm (Everyday Struggle, Party and Bulls etc) I'm choosing this one. It's so spare but so rich, light and dark. I really like a song that's like an unfolding tracking shot in a movie - continuous flow forwards. This song is so beautiful, I can't articulate it. I could listen to this all day

.
Led Zeppelin - Over The Hills And Far Away What to say about this? It's so good- huuuuge- makes me feel high - in a good way! It's sexy, it's cool, it's rock and roll!!!
The Jackson 5 - The Love You Save I hung the show I did at the Whitechapel listening to this on repeat. It was right after Michael Jackson died, his voice is so adult in this - so urgent on top of the liteness.

 It's all in the song, it's the greatest.
Girls - Lust For Life Every new band's first record should have a song this perfect. It's so melancholy. It's about wanting to be in love but being too messed up. It's a classic pop song.
Wagner - Wesendock Lieder III The version sung by Kirsten Flagstad. I love the slow melancholy and intimacy in her voice, the crackling in the recording containing all the heaviness and glory of Wagner. The sound of so long ago. The recordings of her in Tristan and Isolde are beautiful too.
Peyton's monograph, Live Forever is available to order from the Phaidon Online Store
Listen to Elizabeth Peyton's Phaidon playlist on Spotify
You can also listen to these creatives' Phaidon playlists:
John Pawson
United Visual
Simon Fujiwara
Samuel Wilkinson
Alex Hartley
Brian Griffiths
Michele Howarth Rashman
George Condo
Martin Boyce
George Shaw
Karla Black
Piers Secunda
Mark Titchner
Chris Johanson
Edmund de Waal
Haroon Mirza
Wilhelm Sasnal
Nathaniel Mellors
Richard Harrison
Antony Micallef
Roger Hiorns
Sign up to the Phaidon newsletter to get future updates.