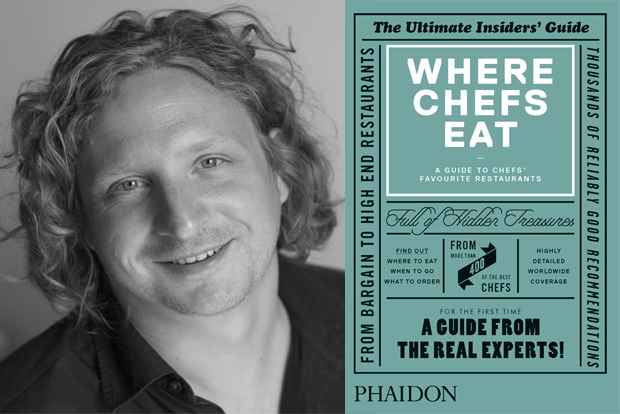 Ten questions for food critic Joe Warwick
The editor of Where Chefs Eat - the ultimate insider's guide to great food - talks about where to get a perfect burger at four in the morning, the imminent end of 'dirty food' and how waiters get their revenge on rude customers
Where Chefs Eat is already shaping up to be our first best seller of 2013. It's a global restaurant guide that sees the world's top chefs revealing what they eat, where and when - from the best three star Michelin place to a herring wagon in a small town square. It's been put together by food critic (and sake somelier) Joe Warwick. We sat him down over a full-blooded red or two and asked him all about it.
How did you get into the foodie world? I worked front of house in a restaurant in the States for a bit, learned how to deal with people, learned a bit about wine, loved the buzz of working in restaurants, the atmosphere and winding up the kitchen. I take great enjoyment winding up chefs basically because it's so easy to do. Plus you can always run away into the dining room during service and they can't come after you! Then I did a degree in English and drama spent about a decade working in restaurants in various places, cooking as a low grade commis chef. I didn't really like the discipline and being shouted at. I worked at Leith's Notting Hill under Alex Floyd when it had a Michelin star. There were a lot of waiters who'd been there since 1964 – it was hilarious. Leiths was only open in the evening so we'd all work in a Japanese restaurant and pretend to be Japanese – it was one of these places where the city Japanese guys came in for set menus: A1, G4. . . . I ended up managing a place called Woody's in West London but became very nocturnal and got a bit burnt out. I did a journalism course and ended up on a new food mag Eat Soup (edited by David Lancaster) then started doing stuff for The Times, Arena and Restaurant Magazine.
You kicked off The World's 50 Best Restaurants at Restaurant, didn't you? Yeah, working on the 50 Best it always kind of annoyed me that we never asked Best for what? We didn't want it to be a list of gastronomic destinations but that's what it turned into. So it's nice to have done Where Chefs Eat. I think when people go out to eat they want specific things. You don't just say I'm going out to eat. You say I'm going out with my wife for a birthday or to celebrate an anniversary or I want to go for breakfast, or I'm skint this month and want something cheap – so that's kind of how the idea for the book evolved.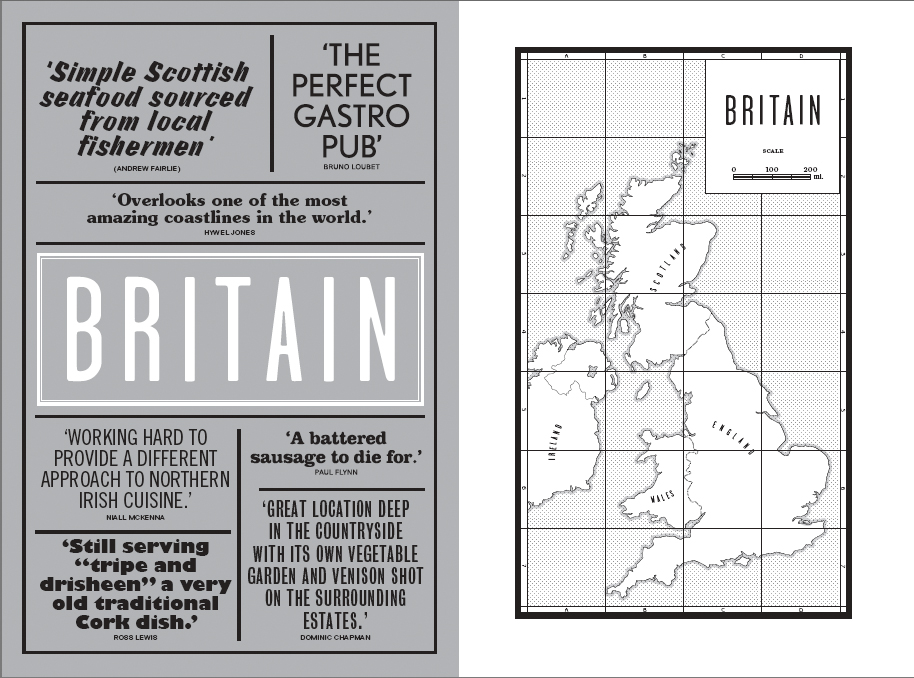 So is that what inspired the book? That and a random meeting in Lapland of all places. I was there for a Cook It Raw thing with René Redzepi, Magnus Nilsson - who at that stage no one had heard of - Massimo Bottura, David Chang. Basically all these chefs are thrown out into the woods to go foraging, then they cook dinner for this circus of gastronomic hacks from all over Europe. I got talking to Emilia (Terragni – Phaidon Editorial Director) who knew I'd worked on Fifty Best. We met again in London, talked about it more and I came up with the title Where Chefs Eat. When I'd been to elBulli several years before, they had this list of recommended restaurants that they would give customers who came. I remember thinking back at the time that's quite cool and wouldn't it would be great to do a more international version.
You must have known a lot of the places already surely. . . No, no way! There's 2,300 places in there and I've been to maybe 10 or 20 per cent of them. The chef recommendations I got really excited about were the little neighbourhood places they revealed where you can get sushi at four o'clock in the morning, the herring wagon in Stockholm or the best ham and cheese sandwich in Barcelona, the hot dog stand in Stockholm and the wet burger place in Istanbul. I didn't even know what a wet burger was until I did the book. It's a burger in a sealed bun and then they poach it in chilli oil until it becomes this incredible slicy, spicy mess. Some guy in the Seventies obviously noticed there was a lot of doner kebabs around and thought I need to do something different. I'm going to New York next week and there's plenty of places I'm going to visit on the basis of this so it's actually a useful book – even for me.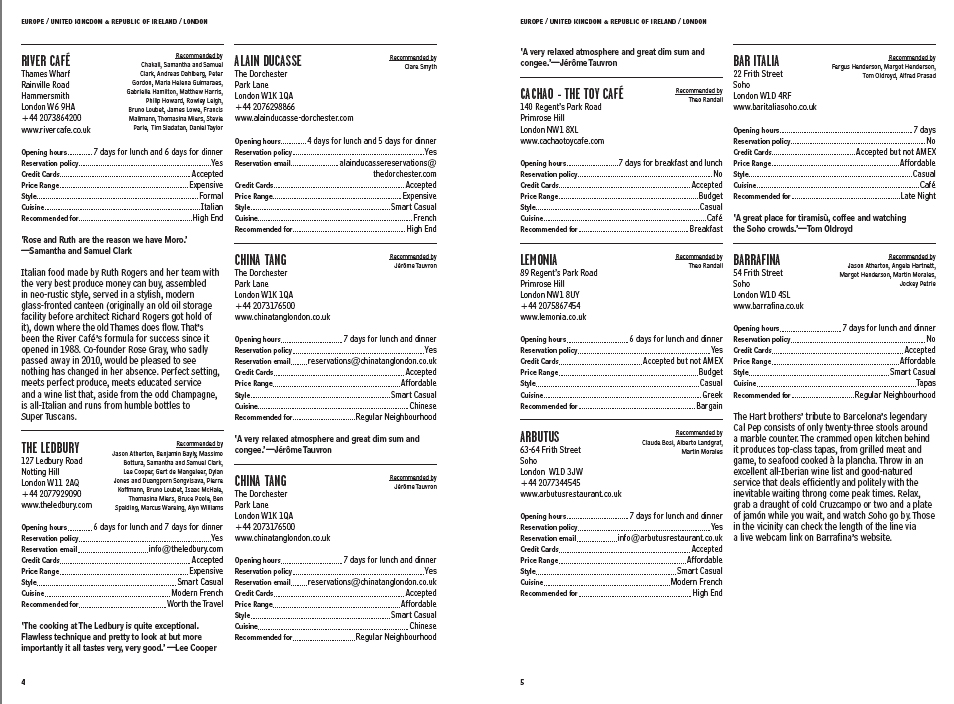 The book is very much of the moment in the way it references just exactly how we eat these days and the odd hours at which we do so. Yeah, I don't think you could have done this book five or ten years ago. And I don't think anybody would have really cared about what chefs thought back then. Chefs weren't as well-travelled as they are now and they didn't get out of their kitchens as much as they do now - they were chained to the stove. Look at Marco Pierre White in his pomp - he didn't look like he ate anything. He was on coffee, adrenalin and cigarettes! But these guys now, they go to other fine dining restaurants, it's almost like homework to see what their mates or what the competition is doing. They understand that eating out is not about one type of restaurant. Also I think we as food critics are encouraged to maybe judge places too quickly before they've bedded in. If you're a big name chef you're not going to put your name to a place that's shit. So the places in the book that are quirky and newsworthy are really very good. For instance Andrew McConnell picks a place called the Embassy Taxi Café in Melbourne which is right beside the hospital. It's a pretty rough place - full of ambulance and taxi drivers - but you can get a great shake and burger at four in the morning. It's obvious really: If you wanna know about books you talk to a novelist, if you wanna know about music you talk to a musician. It's the same with food.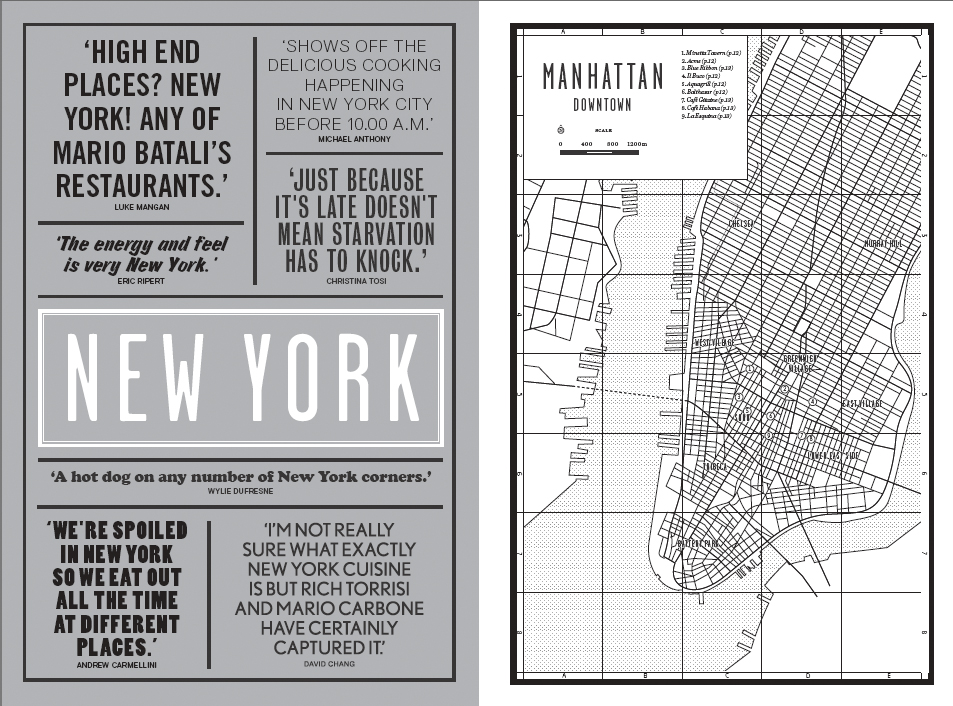 So where have you spent the most money in the last year? Well the place I go to the most is Hereford Road. I love that British seasonal gutsy, offaly, gamey thing. It's also really popular with the London chefs. Why? Maybe because it's owner-driven, and I think that school of St John's is very popular. I think people like eating like that. The chef (Tom Pemberton) is there all the time, it's not pretentious or expensive. A hack like me can get three courses for £13.50. I've been very lucky to eat at elBulli three times, been to Noma half a dozen times and I love eating in places like that but on a regular basis, as I get older I like simpler food, I just do. And I think what's interesting with the chefs actually people assume if you're a chef and you cook very fancy food that's what you're going to eat but the fancier the food the chef eats the more they'll want something simple. I think if you spend all day fiddling with food, tweezering micro herbs, when you go out you just want something a little more simple and direct. Haute couture is terribly impractical, beautiful and expensive and most people only dip into it every so often because it's all they can afford - haute cuisine is the same.
Everyone still talks about service in the UK not being up to the standard of say Australia or the US but where does the customer go wrong? Good question! OK: Never be rude to a waiter. Because Why would you do that? I think sometimes people go in with ridiculous expectations. In Britain we still do this thing where we leave our food but we don't complain. Rather than saying you know what? That wasn't very good. And they take it off the bill or take it back to the chef. People also get really intimidated by someliers - there's no reason to be intimidated. Just say 'I want something soft and red' or 'something crisp and white' and talk to them about it. They're not car salesmen. If they're trying to sell you something that's 50 quid and you want to spend 20 just tell them. Take control.
What are the more evolved ways in which waiters get revenge on rude customers? I've never seen waiters doing any of the things you hear about though I read something one had written the other day about his favourite trick being 'the old decliner.' So if somebody is being a bit rude in front of a group of people he would press cancel just before the card went through then say, 'I'm sorry sir it's been declined.' Then he'd do it again. I like that, it's quite funny.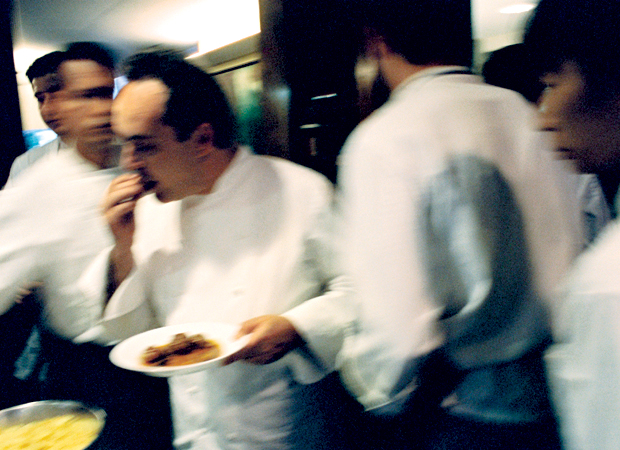 Where were you happiest in a restaurant? I went to elBulli three times. The first was with a Norwegian white rasta photographer who wasn't into the experience at all and was miserable all the way through the meal. I'd also been very ill but was determined I was going to go. I was taking this powdered flu medicine and at the time Ferran was going through a powder phase and everything was powdered. The powder thing was a bit of a challenge so all put together my first time at elBulli wasn't very enjoyable. I went back another time to eat on my own. I was doing a story about eating my way round the globe in three Michelin star restaurants. The idea was that if you ate in those places on your own you'd go mental because you need someone to bounce off and talk to. Then another time I went with my wife and some friends and just had The Best Meal Of My Life. Everything was delicious - everything was fantastic. Actually, the first time I went to Noma around 2007 there were two things that hit me. The 'crispbread' which was flattened chicken skin. And René had this giant Gotland Prawn which you ate with your hands from this black plate. You picked up this prawn and you just rubbed it across the dusting and the spicing on the plate – it's still the best thing I've ever eaten there.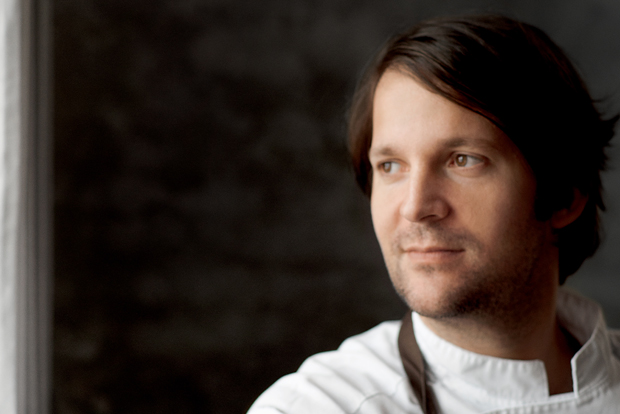 OK we're bored of burgers and really over the whole 'dirty food' thing what's next in food? Food is a fashion industry. It really winds people up to hear it but it's true. It's like flicking through a picture book of trousers and seeing them getting narrower and wider as the years come and go. Dirty food is very faddy everyone's doing it. How many steak houses have opened in London in the last year? We used to have one - Aberdeen Angus! What we need more is pubs doing good food which is what we had in the 90s with the whole gastro thing taking off. I have a feeling that might return. Also increasingly in the high end you've got people dictating what you eat. You've got to have the tasting menu and you've got to have 10 courses. I think people are getting a bit fed up of that. Yes, I want to do that at Noma but there are a lot of places doing it now and the customer is losing their choice, they want to order and control their meal. I think if it's dictated by what's come off the farm that day it makes sense but in a big city restaurant it's not really being dictated seasonally. And also the very best chefs know how to construct a tasting menu that is balanced and flows and the last mouthful leaves you feeling perfect. But I've had a few recently where I've been stuffed – the meal has been too rich it hasn't been balanced. I think some of these guys haven't tasted their own tasting menu. They've no idea what it's like to eat it all. So maybe there'll be a move away from that and back to a la carte.
See Joe talking about Where Chefs Eat in the video below and get the book now.