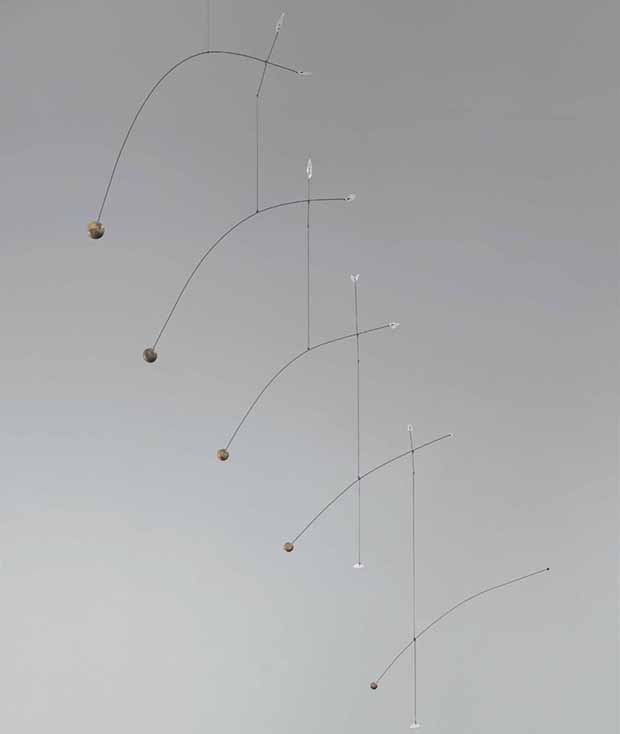 From Book to Bid – Alexander Calder's Untitled
At auction tonight - the Calder mobile loved by Jean-Paul Sartre, Marcel Duchamp and Fernand Léger
If your head has been turned by the Alexander Calder mobile (circa 1937) in tonight's Christies contemporary art sale in New York you can rest assured you're in good company. A brief flick through our book Calder reveals a remarkably varied array of creative talents, voicing their love of the work of the Pennsylvania sculptor.
So we were even more astonished last year when Calder's grandson, Alexander Rower, told us that the artist would routinely disassemble and mail the constituent parts of his mobiles to galleries via standard US mail. These are artworks that now command million dollar prices - the one at Christie's Looking Forward To The Past auction tonight is expected to fetch between $5.5million - $7.5 million.
A brief history lesson. It was Marcel Duchamp who coined the phrase 'mobiles' to describe Calder's airy sculptures featuring cutout shapes, reminiscent of birds, fish and falling leaves that derived their movement from the air current in a room.
"Among all the artistic 'innovations' that came about after the Great War, Calder's line was so distant from any established formula, that there was a need to invent a new name for his forms in motion: 'mobiles'," he is quoted in our book on the sculptor.
"Through their way of counteracting gravity by gentle movements," Duchamp goes on, "they seem to 'cry their own particular pleasures. A light breeze, an electric motor, or both combined in the action of an electric fan, can set in motion a series of weights, counterweights, and levers that draw unpredictable arabesques in the air, producing a lasting feeling of surprise. Once color and sound join the party, the symphony is complete and all our senses are called to follow the invisible score. Pure Joie de vivre, Calder's art is the sublimation of a tree in the wind."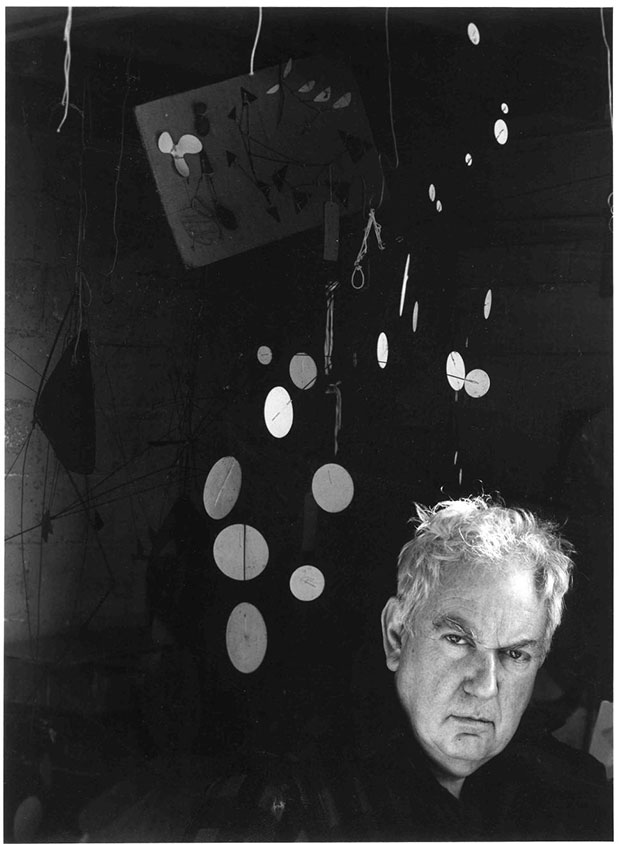 Jean Paul Sartre was equally enamoured of the work, saying: "If sculpture is the art of carving movement in a motionless mass, it would be wrong to call Calder's art sculpture. He does not aim to suggest movement by imprisoning it in noble but inert substances like bronze or gold where it would be doomed forever to immobility; he lures it into being by the use of incongruous and base materials, taking bits of bone, tin, or zinc and building strange constructions of stems and palm fronds, of disks, feathers and petals. They hang on the end of a thread like spiders, or perhaps squat stolidly on a pedestal, crumpled up ad seemingly asleep. But let a passing draft of cool air strike them, they absorb it, give it form, spring to life: a 'mobile' is born!"
Fernand Léger meanwhile rather rudely contrasted the artist's weight and his work in a more prosaic summation. "It would be difficult to find greater contrast between two things than between Calder, who weighs 220 pounds, and his slender, gossamer mobiles. Calder is something like a walking tree trunk, displacing a lot of air as he moves, and blocking the wind." Charming. If you're bidding tonight, good luck, if you're not make a play instead for our Calder book.
Earlier this week, as part of this series, From Book to Bid, we highlighted author Paul Moorhouse's take on Cindy Sherman's Untitled #470, up for auction at Phillips' evening sale in New York on May 14, Adrian Searle's thoughts on Peter Doig's painting Swamped, lot 5A in the Looking Forward to the Past sale, to be held at Christie's in New York today, Monday 11 May, Yayoi Kusama's Infinity Nets (ZYA) which also goes under the hammer at Christie's in New York tonight, and Andy Warhol's Fright Wig series, an example of which, Lot: 228, is up for auction at Sotheby's on 13 May.