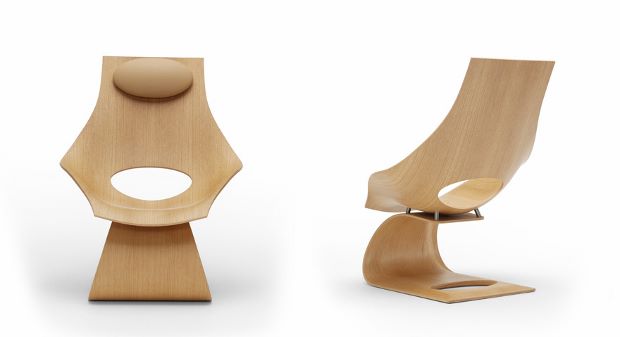 Tadao Ando's Dream Chair becomes reality
Danish furniture firm Carl Hansen & Son learned to bend wood like plastic to bring Ando's furniture to life
When we saw Tadao Ando's plans for the Danish furniture manufacturer, Carl Hansen & Son, we were immensely impressed. The ergonomic forms of his Dream Chair both reflect the refined simplicity of Ando's architecture, and are also a fitting echo of the great Scandinavian designer Hans J. Wegner, to whom Ando says the chair is a tribute. As Ando explained, to come up with this he "followed an approach similar to the one I use in architecture. I often use concrete as the only material in order to create unique rooms. In the same way, I only used one material – plywood – for the Dream Chair to define the chair's space."
However, this choice of material was far from simple for Carl Hansen's engineers. Plywood is built up from thin veneers of wood to achieve stiffness and withstand warping. While it can usually be bent along one axis – e.g. left to right – it isn't well suited to being so radically reformed along more than one axis, as Ando's designs require.
To bring this Dream Chair to fruition, Carl Hansen had to employ radical new manufacturing techniques, developed in Germany. By cutting a series of very deep parallel grooves into each of the veneers, three-dimensional plywood moulding allows the flat boards to be bent and reformed much like plastic, and then set in aluminium moulds. The process has been tried in various industrial settings before, yet no furniture maker had attempted so radical a reforming as Ando's plans required.

The development of the production process was long and laborious, yet both sides are very happy with the product. "Together we have challenged – and possibly reached – the limits of what is possible to achieve with plywood," said Knud Erik Hansen, CEO of Carl Hansen "Tadao Ando has succeeded in producing a unique chair that visually and technically challenges our perception of a lounge chair."
To find out more, go here. And for further insight into the life and work of this great Japanese architect, consider our book, A complete catalogue of his work, as well as Colours of Light, our stunning Ando photographic portfolio.