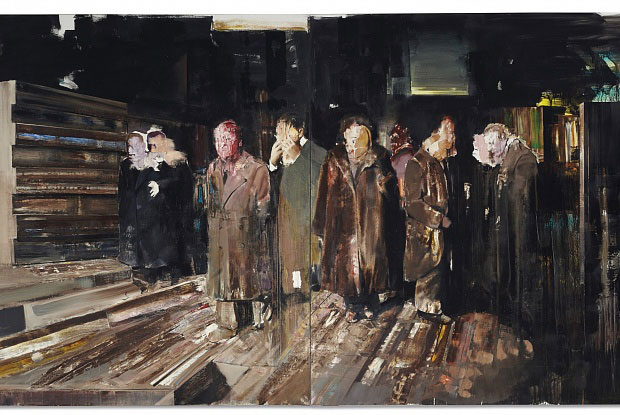 Vitamin P2 artist Adrian Ghenie breaks sale records
His 2008 work Nickelodeon went for over 4 times its estimate last night. Is it time you looked at Vitamin P3?
Adrian Ghenie's Nickelodeon (2008) sparked a bidding contest at Christie's last night. The artwork, which featured in our 2011 Vitamin P2 book of upcoming painters, rose more than four times over its high estimate of £1.5m to eventually sell for £6.2m. "Ghenie is positioned as the next Bacon," the LA-based dealer and artist agent Stefan Simchowitz, told the Art Newspaper.
As we wrote about Nickelodeon in Vitamin P2: "The painting depicts a group of ghostly figures moving, or being moved on, in a dishevelled pack. Echoing Francis Bacon's phsychology and Gerhard Richter's technique, their faces are torn, collapsed and anonymous, as is the scene around them. The composition exits in a tension between paint as paint and paint as an illusion of something - Ghenie consistently reminds us to consider 'painting' as both an object and an act."
Incidentally, five of the seven records set at Christie's last night were for artists under 40. So if you're wondering who you should be looking at right now we suggest you check the latest book in our Vitamin P series.
Vitamin P3 New Perspectives In Painting is the third in the ongoing series that began with Vitamin P in 2002 and Vitamin P2 in 2011. For each book, distinguished critics, curators, museum directors and other contemporary art experts are invited to nominate artists who have made significant and innovative contributions to painting. The series in general, and Vitamin P3 in particular, is probably the best way to become an instant expert on tomorrrow's painting stars today.
Find out more about Vitamin P3 New Perspectives In Painting here. It could turn out to be the best investment you ever make!