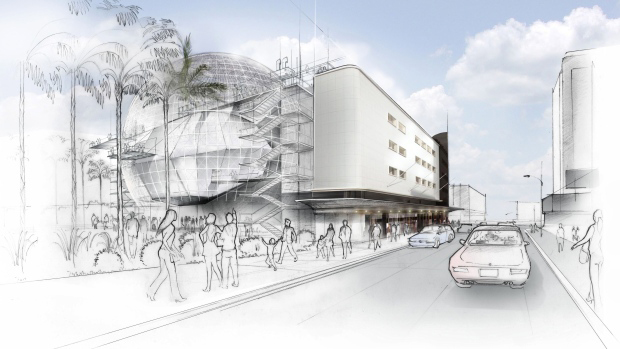 Renzo Piano designs LA movie museum
Architect works with Zoltan Pali on $250 million museum for the Academy of Motion Picture Arts and Sciences
Renzo Piano has designed a museum dedicated exclusively to the history and ongoing development of motion pictures. The plans were unveiled in LA last night by the The Academy of Motion Picture Arts and Sciences. The Academy announced that it reached its initial goal of $100 million towards the $250 million needed for the project. Designed by Piano and Zoltan Pali, the non-profit museum which will be located in the historic May Company Wilshire building in Los Angeles, is scheduled to open in 2016.
"The Academy Museum will be a landmark that both our industry and our city can be immensely proud of," said Academy CEO Dawn Hudson. "I appreciate the unwavering support of our board, our members, and especially our campaign chairs, all of whom have led us through this crucial stage."
Located on the Los Angeles County Museum of Art campus, the nearly 300,000 square-foot Academy Museum will revitalise the historic building, which has been underused for the last 20 years. The idea is that the museum will help "weave" the building "back into the fabric of the city".
According to Piano, the design fully restores the Wilshire and Fairfax street-front facades of the 1938 Streamline Moderne building, and includes a spherical glass addition at the back of the original building. Designed to represent the marriage of art and technology, the addition will house a state-of-the-art theatre which will replace an extension made to the structure in 1946.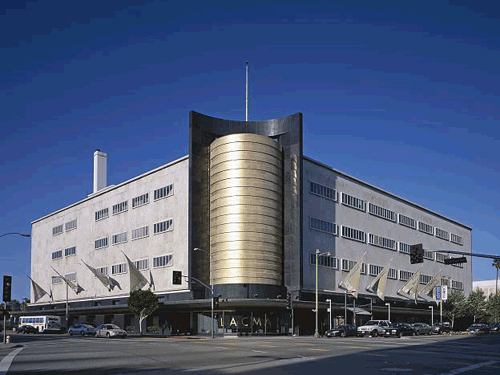 "The design for the museum will finally enable this wonderful building to be animated and contribute to the city after sitting empty for so long," said Piano. "I am very inspired by the Academy's name and mission, the idea of the arts and sciences working together to create films. Our design will preserve the May Company building's historic public profile while simultaneously signalling that the building is taking on a new life that celebrates both the industry and art form that this city created and gave to the world."
The museum will draw upon the Academy's extensive collections and archives, which include more than 140,000 films, 10 million photographs, 42,000 original film posters, 10,000 production drawings, costumes, props and movie-making equipment, as well as behind-the-scenes personal accounts from artists and innovators - the Academy's membership - working in the motion picture industry.
If you're a Renzo Piano fan check our selection of great books on him. And if you're a film buff check out our books on Clint Eastwood, Woody Allen, Tim Burton, Pedro Almodovar and others here.