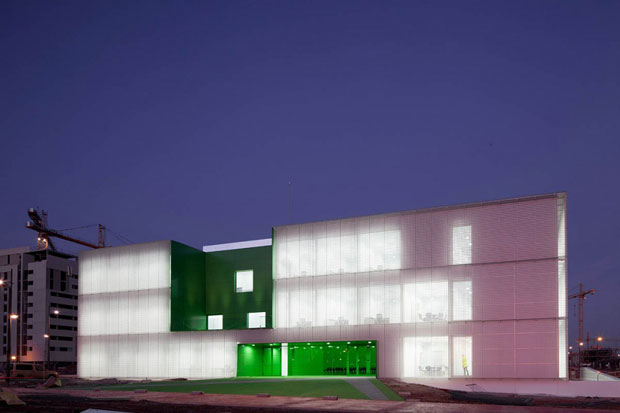 A very chilled out building
The Social Services Building by Dosmasuno architects in Spain takes green to a completely new level
The important tasks carried out by a social services department means the team requires unification yet a respectful distance to ensure privacy of the sensitive work involved. A new building in Móstoles, Spain rises to these challenges by creating individual offices that are arranged in such a way as to create the maximum space possible out of the plot upon which it is built. The internal spaces can also be changed depending the changing needs and demands on the social services department.
The architects sought to extract as much internal mass as possible to create open, interior spaces. "These spaces are fully accessible and can operate as public or restricted areas, such as external waiting rooms or resting areas for the workers," say Dosmasuno Arquitectos, who are behind the project.
The outer shell of the building is wrapped in a transparent green skin, which regulates temperature and transparency as it distorts the view from the outside while allowing continuous views from the inside out. As the light pours in, shadows are cast in a calming green hue, which has a soothing effect. In fact, we're feeling a whole lot calmer just from looking at the thing. Call it the healing power of green. Check out how other architects are dealing with environmental challenges and technological advances in our great book, Building The New Millennium.