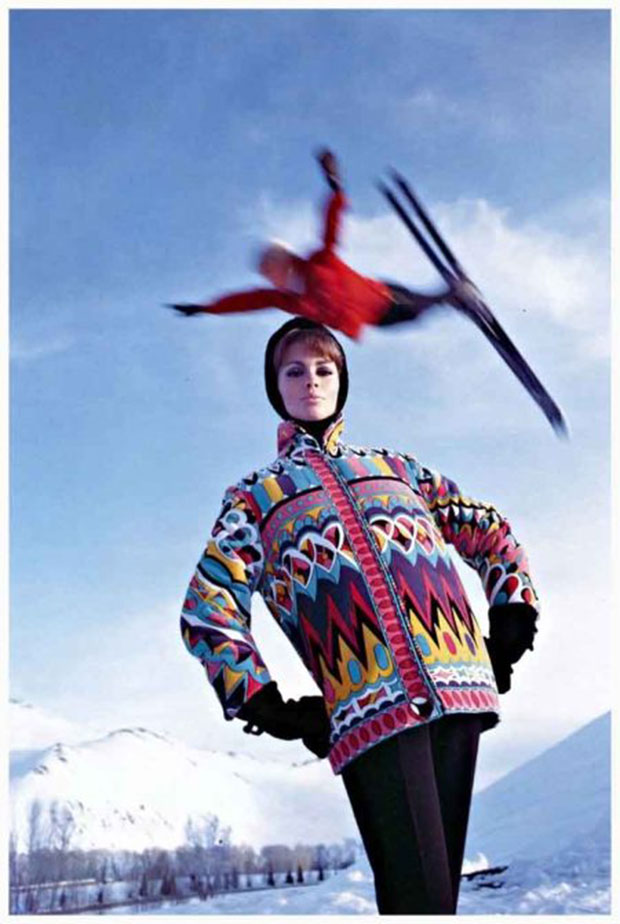 Baby it's (really) cold outside!
How Emilio Pucci, born 100 years ago today, brought style to the slopes - and the city
With the snow battering America's North East right now, a focus on the designer who did so much to make us look good - whatever the weather - seems somewhat appropriate. Add in the fact that today is the 100th anniversary of Emilio Pucci's birth meant that the picture above, from The Fashion Book, was one fashion photo opp we couldn't pass up.
Pucci's stylish influence on the ski slopes of Europe and North America can't be undone by even the most fluorescently-challenged teenage snow boarder. The boldly patterned and brightly coloured jacket with slim ski pants from The Fashion Book is typical of his style.
The Marchese de Barsento, the scion of an old aristocratic Tuscan family, was a member of the Italian Olympic ski team when he was photographed on the slopes of Zermatt wearing his own designs. The photos subsequently appeared in Harper's Bazaar and on seeing them the editor asked him to design skiwear for a story on European Winter Fashion for the magazine's winter 1948 issue.
Pucci's designs proved a hit, and he received many offers from American manufacturers to produce them. He left the Air Force and set up an haute couture house in Canzone del Mare, Capri. Stanley Marcus of Neiman Marcus encouraged him to use his designs in blouses and a popular line of wrinkle-free dresses and work took off.
Pucci added a boutique in Rome as his business thrived, helped by Capri's role as a destination for the international jet set. His 'palazzo pyjamas' in non-crushable, silk jersey were worn by Grace Kelly, Lauren Bacall and Elizabeth Taylor, and became a jet-set uniform. Marilyn Monroe was photographed in many of his clothes and was even buried wearing one of his dresses. Pucci's iconic swirling patterns, based on medieval Italian banners, captured the psychedelic mood of the 1960s.
Christian Lacroix and Matthew Williamson are among the major designers who have worked for the label since Pucci's death. They, and Pucci, are just a couple of over 500 designers of key fashion items and accessories spanning 150 years featured in The Fashion Book, dubbed the fashion bible by Vogue. Take a look at in the store.