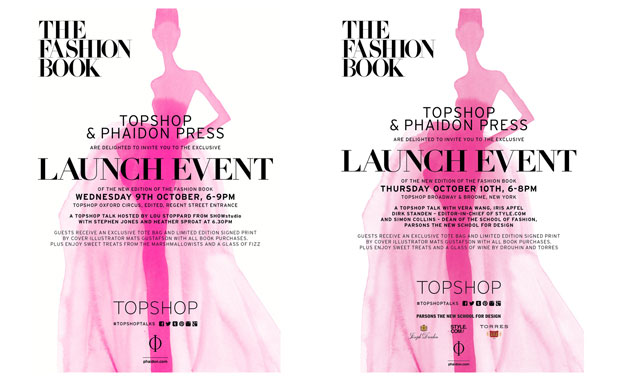 Join Phaidon at Topshop London and NY this week
Come and say hello at the launch of our updated style bible The Fashion Book
Phaidon is celebrating the launch of our updated The Fashion Book with two special events at Topshop in London and New York next week and we'd love you to join us. They take place on Wednesday (9) at the Oxford Circus, London store and on Thursday (10) at the Broadway and Broome, New York store. The London event runs from 6-9pm while New York runs from 6-8pm.
Open to all fashion lovers on a first-come, first-served basis, the evening will include a panel discussion on the theme of fashion influences. All guests will receive an exclusive Topshop/The Fashion Book tote bag with every purchase of the book as well as a limited edition The Fashion Book print signed by Mats Gustafson, the book's cover artist and celebrated Dior illustrator.
Speakers in London include Lou Stoppard from SHOWStudio, Heather Sproat, Senior lecturer of BA Fashion at Central Saint Martins, milliner Stephen Jones and Shonagh Marshall, curator of fashion at Somerset House. Sweet treats will be provided by The Marshmallowists.
The New York speakers meanwhile, include Dirk Standen from Style.com, Simon Collins, Dean of The School of Fashion, Parsons the New School for Design, designer Vera Wang and Iris Apfel. Vintners Drouhin and Torres will provide refreshments.
At both events there will be a chaired discussion with the respective guests. Leading up to both events you can submit questions for the panelists via Twitter with the hashtag #topshoptalks. And if you can't make either event but want to know more about the book check it out in the store now.