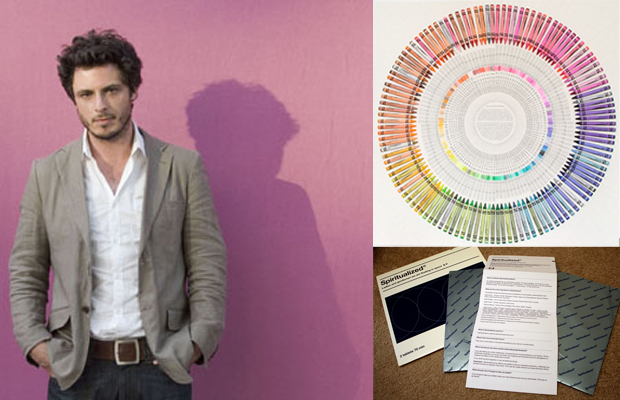 Jamie Shovlin's Muse Music
The painter and conceptual artist on the music that gets him in a creative mood
For this week's Phaidon Muse Music playlist the 10 tracks that we hope will soundtrack your weekend were chosen by Jamie Shovlin, the artist who likes to blur the boundaries between truth and the fiction. You can see the latest examples of his play with reality at Various Arrangements, his current exhibition at Haunch of Venison, which presents a series of 17 large-scale paintings based on the cover designs of Fontana publishing's Modern Masters series. This time it's for real, not a hoax and you can read more about them here. Meanwhile, we've put Jamie's playlist on Spotify. But before you listen to it, have a read of what he says about the music that inspires him.
"Music has always served as a sanctuary, in life and in work. I listen to music constantly whilst working – it's like the unacknowledged companion on many a long and dark night. I like different songs for different reasons but seem drawn to stuff that transcends your initial expectation of what you're getting as well as songs that play around with structure. It's tricky to define what, if anything, links these songs: there's a mixture of the inherited, the adolescent and the new."
Spiritualized Ladies and Gentlemen We Are Floating in Space – I often find myself paying special attention to first songs on albums. I listen to music by album rather than song so I like first songs that act as entry points to the album as a statement. This is one of my favourite first songs on one of my favourite albums. The ECG bleep as meter, Jason Pierce's fragile overlapping vocal, the slow build to a dense arrangement, the lead up to the drums of Come Together – a perfect start to a perfect album.
Daryl Hall and John Oates I Can't Go For That (No Can Do)__ – A hand-me-down from my mum. With a bass line that Michael Jackson stole for Billie Jean, it's the best synthetic white-boy soul has to offer. I really like Daryl Hall's voice but here it's mega-compressed which gives the song that distant chill that works so well within the arrangement.
Red House Painters Funhouse__ – I like long and slow songs and there's no better proponent of those qualities combined than the Red House Painters. Funhouse is such a spatial song - delightfully slow and super heavy with reverb. I like songs that stretch out, sometimes more than their holding structure can take, which happens here around five and a half minutes in. It's a song that feels like it could go on forever.
Grimes Oblivion__ – I include this as a nod to new music, something that I'm generally quite useless at coming across by myself. A friend passed the new Grimes album to me and I rely heavily on recommendations of what new stuff to look out for. So this is what I've been listening to for the last month. Oblivion is probably the most immediate song on the album. I hear she makes music alone on GarageBand and in her apartment – something that really appeals to me. Such a beautiful voice on top on a heavy backing – I really like multi-layered vocal tracks.
__Pavement _In the Mouth of a Desert ___ – A tough call with which Pavement song to include - they were the first band I ever saw live, back in 1993, so have been with me for years. In the Mouth of a Desert is from Slanted and Enchanted - not my favourite album but probably the one that captures best the cantankerous mix of melody and dissonance that makes them so special. Also a very good intro to the curious poetry of Stephen Malkmus' lyrics.
Katy Perry Teenage Dream – I love pop music and I love it without shame. Katy Perry is a perfect pop star: average enough to relate to, beautiful enough to want to be, indistinct enough to cast in a variety of roles. This is a great song – it works anyway you need it to, which is what good pop should do. I love the astringent quality of her voice and the mega-production. Katy rarely disappoints and this, in my opinion, is the high point of her output.
Sonic Youth The Diamond Sea – It was a toss-up between this and Expressway to Yr. Skull. Structurally they're similar songs: popish starts that break down and then transform into dissonant jams. The Diamond Sea edges it as it's Thurston Moore's best love song and it seems more pensive in pace. It's a song that you can phase in and out of – it doesn't deliver immediately and kind of works better if you're there with hazy indifference to it. It's very sad that they may never record or play again.
Fleetwood Mac Seven Wonders – Hard to include but even harder not to. A common sound around the house occupied by my 10-year-old self was Tango in The Night. Nowadays it sounds like the quintessential 1980s album, all big hair and over production. Still it's full of nuggets, mostly the singles that were released. Seven Wonders is the odd one out, the forgotten single. I'm mostly a Christine McVie guy, so this choice of a Stevie Nicks track is an oddity. Stevie's a drama queen and Christine is solid English stiff upper lip. Still, it's hard to resist. Her voice sounds like it's about to go here but there's real verve in the singing. A beautiful song.
Nick Cave and the Bad Seeds Saint Huck – Another tricky choice from a long career of amazing songs to choose from. Saint Huck gets it as I've worked backwards with the Bad Seeds. I got into them around the early 1990s and went forward with new releases and then into the back catalogue later. This is from the first album and has the rawness that the Bad Seeds evolved out of and that Grinderman stepped in for. It's all built on the schism between the rolling bass line and the stabbing guitar texture, each set against Cave's preacher-like rants about the eponymous subject. Still sounds as raw as it ever did today.
Smog Permanent Smile – My favourite final song of any album and the nearest I've come to a making a choice for my funeral song. Simple, elegant and painfully beautiful, it's a tale of denial, faith and finally acceptance featuring the heaviest drum hits I've heard on any song (provided by Tortoise's John McEntire trivia fans). I've been a devout follower of Bill Callahan throughout his long career, from cranky upstart to refined storyteller. This feels like a midpoint along those two extremes. The final line, "Oh God, I never, never ask why", is preceded by 5 minutes of ongoing questions and forensic detail of what happens to a corpse after death. That sums him up pretty well.
You can also listen to these creatives' Phaidon Muse Music playlists:
George Condo
Martin Boyce
Simon Fujiwara
Karla Black
Mark Titchner
Wilhelm Sasnal
Elizabeth Peyton
Chris Johanson
Edmund de Waal
Samuel Wilkinson
Roger Hiorns
Alex Hartley
Brian Griffiths
Michele Howarth Rashman
Piers Secunda
Haroon Mirza
United Visual Artists
Nathaniel Mellors