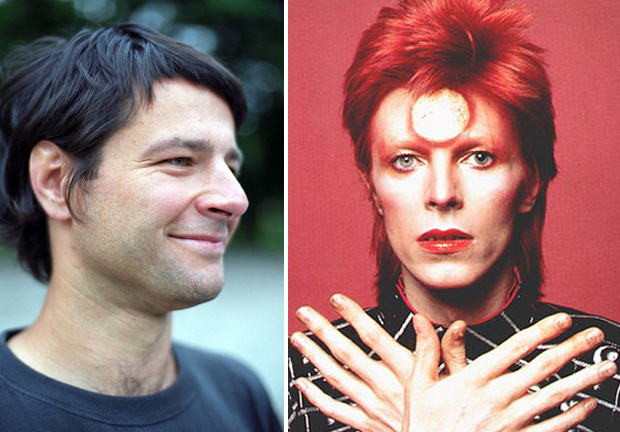 Wilhelm Sasnal's Muse Music
The acclaimed artist on the music that gets him in a creative mood
It's almost the weekend so we've asked one of our Phaidon family members to create a playlist of music you might like to listen to over the next few days. We're going to try and do this each week. The idea is that they choose the tunes that get them in the mood to create or that they play in their studio, office - whatever, when they're working. Today, Polish artist Wilhelm Sasnal chooses some of the music he plays in his studio. If you have a Spotify account you can listen to Wilhelm's choices here. But before you do that have a quick read of what he says about them.
"I always listen to music when I make art. I do about 30 minutes of work and then have a break between records. I don't have clear reasons for this playlist but they are all songs which have inspired me. The link is that they are all very simple songs, classical in structure - from Elvis Presley to Slayer - and that's what I like about them. Some of them ended up in my films.
Bauhaus - Hollow Hills This song was the reason why I decided to become an artist. It came from drawing the covers of Bauhaus albums. Obviously there was the Bauhaus school but I didn't know about that until I heard this. It was like an introduction to my whole idea of art. I was so confused when I heard this on the radio the first time. What is it? Is it metal? It's not punk but it sounds so heavy and intense. My life changed with it, and also my thinking.
Elvis Presley - Blue Moon Sometimes you have the feeling that Elvis was a show off and superficial but this song and the way he sings it is really loaded with lyrical feeling. I find it quite real, he gives something of himself. There's a real naivety to it.
_The Cure - Killing An Arab _ When I think about my films I always come back to this song. I love the obscurity of the (Albert Camus) book - there is no clear reason why the man killed the Arab. And there is an obscurity in this song that I love - the imagery of the frozen beach and the sun and the weird sound at the beginning, like a shout or like ice cracking. And, of course, it can be regarded on so many different political levels.
Spacemen 3 – Revolution This is the first song I heard by them, I think on MTV. The guitars are just completely hypnotic, so simple yet mesmerising. I used this song to soundtrack a couple kissing in the short film Keys.
Iggy And The Stooges - Dirt I listen to this when I snowboard. It's old but it sounds so contemporary and fresh.
Slayer - South Of Heaven Until the late 1980s in Poland you could listen to entire albums on the radio. They would play one side and then wait for you to turn over your tape so you could record the other. I remember doing that with this. Even though soon after that I stopped listening to metal, South Of Heaven has stayed with me.
Sonic Youth - Diamond Sea I like this because of the way it goes into some noisy free range freak out and then at the end goes back to the proper song. Sonic Youth are important, unique and very special. They are so highly regarded because they've kept their credibility, which is rare.
__The Beatles - Rocky Raccoon __ This is from my son's favourite Beatles album, (The White Album). I listened to it everyday for a couple of months. I can somehow visualise the lyric of the song - like the reference to the Gideon's bible left in the bedside cabinet. It's prophetic but puzzling. It's like a film script, loaded with potential.
Suicide - Touch Me I used this song in one of my short films. Again, it's all about hypnotic repetition. A hypnotic, rhythmic series of sounds that sound like they could almost last forever.
The Beatles - Savoy Truffle Another Beatles song with a good story. This is apparently about the chocolate box that George Harrison used to keep. Eric Clapton would visit him and he would pull out the box and count out the chocolates. I love the simplicity – the lyrics are just the names of the chocolates – it's so minimal.
David Bowie - Space Oddity I can't actually comment on this song. How could anyone? There is a whole universe in this song!
To learn more about Wilhelm click here.
Click here to listen to Wilhelm Sasnal's Muse Music on Spotify.
You can also listen to these creatives' Phaidon playlists:
John Pawson
United Visual
Simon Fujiwara
Samuel Wilkinson
Alex Hartley
Brian Griffiths
Michele Howarth Rashman
George Condo
Martin Boyce
George Shaw
Karla Black
Piers Secunda
Mark Titchner
Chris Johanson
Edmund de Waal
Haroon Mirza
Elizabeth Peyton
Nathaniel Mellors
Richard Harrison
Antony Micallef
Roger Hiorns
Sign up to the Phaidon newsletter to get future updates.