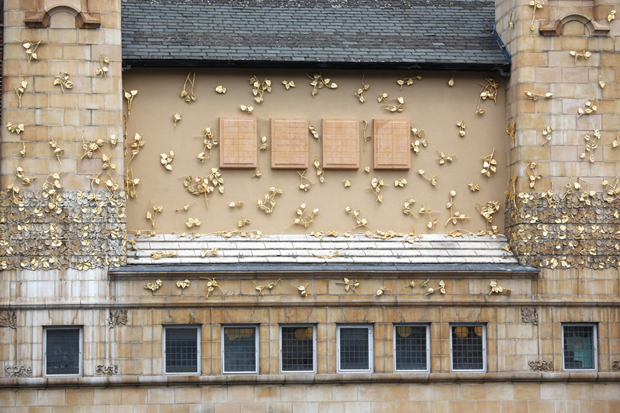 Rachel Whiteread unveils Whitechapel frieze
Artist and local resident's gold leaf facade, inspired by St Paul's, realises a project begun 100 years ago
Rachel Whiteread has stepped in to complete a project begun over one hundred years ago in London's east end. The original plans for the facade of the famous Whitechapel Gallery, designed by Charles Harrison Townsend, included a frieze embodying the gallery's public message - to bring great art to the people of London. It was never realised and a large black rectangle has instead remained above the main entrance all that time. Earlier this year the Whitechapel commissioned Whiteread to create a frieze to complete the facade and it was unveiled this morning by the artist, Whitechapel Gallery Director Iwona Blazwick OBE and Danny Boyle, the film maker and Olympics 2012 opening ceremony director. The work is Whiteread's first ever permanent public commission in the UK.
Whiteread has lived near the Whitechapel Gallery for the past 25 years. For the commission, she drew inspiration from the decorative Tree of Life Motif, which is part of the terracotta building, to create a new work of art celebrating the qualities of the existing architecture. Whiteread took casts from existing features to create clusters of gilded leaves and branches which catch and reflect light as a motif that floats above the existing trees on the upper part of the facade.
"Having lived in this area of London for so long i feel very connected to the Whitechapel gallery and I hope my work will have a positive and lasting impact for the area and communities here," she said at the unveiling.
She revealed that she was drawn to the idea of using gold while taking photographs from the roof of St Paul's Cathedral. "I wanted to put something there that wasn't bling, but sort of lit up the building. And, looking out across the city from that height, I was struck by the sun alighting on a streak of gold in a miserable part of London and going ping." Work on the facade however, coincided with some of the wettest weather in recent years. 'We hadn't realised we'd be doing this in the monsoon period," Whiteread joked, "so it's taken longer than we thought."