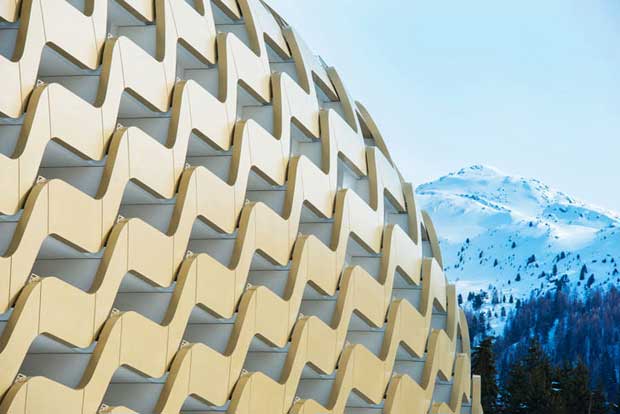 The building they said couldn't be built
Using the smooth overlapping scales of a pine cone as their inspiration Oikios triumph in Switzerland
The general feeling was that it couldn't be done to such a high standard on the budget allocated. But, as is often the case with an artistically-driven endeavour, a team of specialists proved the doubters wrong and completed this extraordinarily complex one-off building on time, on spec and on budget. And it was inspired by something as simple as a pinecone from the nearby forestry.
The InterContinental Davos Hotel in Davos, Switzerland, was designed by Oikios Architects in Munich. They took from the cone its smooth overlapping scales and morphed them into the repeating geometric pattern of the façade which clads the oval structure.
That mesmerising pattern is the work of Designtoproduction, a digital modelling company, structural engineers Wilhelm + Partner, and façade design experts Seele.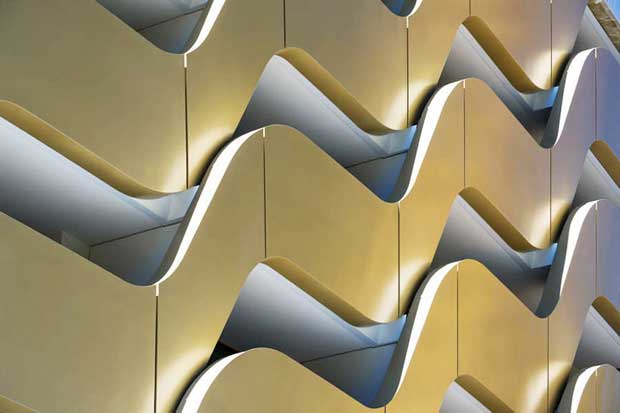 The wow-factor for guests at this luxury hotel is the ripple effect created by the 691 unique laser-cut panels, which have a champagne-coloured metallic coating. In bright sunlight, the building positively shimmers. The panels are supported by another 62,000 individual pieces which were used to build the envelope.
In fact the shell-like façade starts several storeys above ground level, with v-shaped posts supporting it. Those pillars are on show in the lounge, which is as opulently furnished as one would imagine. One way of helping with the cost was the switch from the original aluminium to steel, which as well as being cheaper, is less prone to changing size and shape when the temperature fluctuates. Despite the technical complexity of the scheme, it was completed in just two years.
Oikios – which was set up by Oliver Hofmeister in 2007 - are no strangers to Davos. They've also designed a shop, a depot, a private house, the Hilton Garden Inn, and an old people's home in the alpine village which hosts the annual World Economic Forum.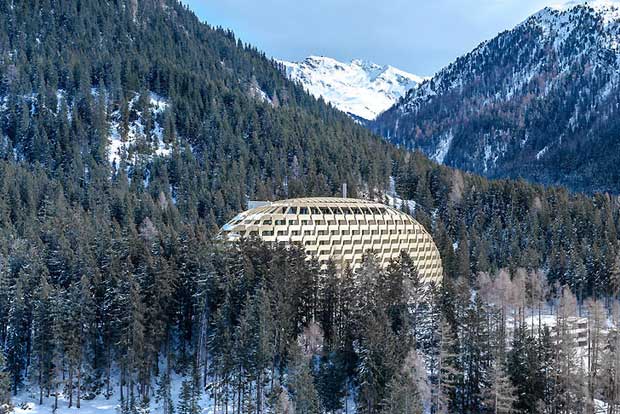 Jean Francois Goyette the editor of Phaidon's newly launched Online Atlas has a little more insight into how the building came into being.
"While international style modernism brought on an era of standardised techniques for a new universal architecture, computer aided production now permits cheap and rapid realisation of one-off complex geometry and ornamentation," he says.
"It also permits the development of an entirely new type of architecture language. Take, for example UNStudio's Mercedez Benz Museum, also realised by Designtoproduction, whose complex helix circulation meshes with a three-leaf-clover plan impossible to conceive through traditional architectural representation techniques."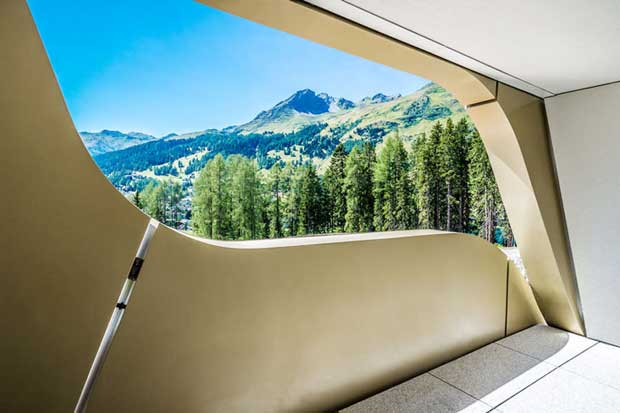 If you're an architect, an architecture student or just interested in going further with architecture sign up for a free trial version of the Atlas here. The Atlas not only helps users research a specific building or piece of architecture, it allows them to do so using a number of entry points: by structural system, material, urban environment, sustainable features, location, architectural elements and so on. In essence, it provides an ongoing answer to the question: What is the future of architecture? It's also a good example of how a digital product can be better than a paper one, freeing up the user to go much further.
You can find out more about the Online Atlas here and for a limited time, anyone tweeting an Atlas project - any project - will be rewarded with one week's free subscriber access to the site. Meanwhile, for more on contemporary building, please take a look at The Phaidon Atlas of 21st Century Architecture and the Phaidon Architecture Travel Guide App