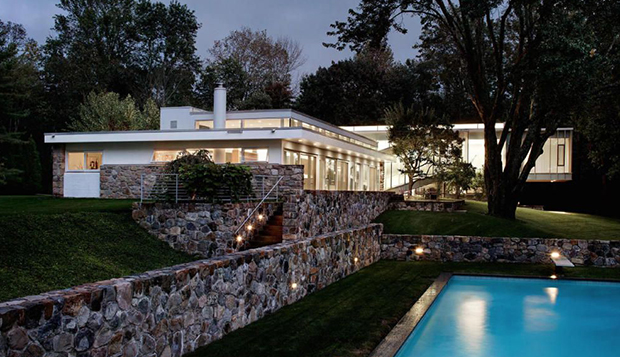 Marcel Breuer's family home is up for sale
New Canaan hilltop house built in 1951 and updated by a Harvard prof in 2016 could be yours for $5 million
In 1947, two years after moving his architecture practice to New York, the Hungarian-born architect Marcel Breuer began work on a hilltop house for his family in the smart commuter town of New Canaan in Connecticut. Dubbed New Canaan I, Breuer's building was a Modernist masterpiece, with a large, rectangular wooden first floor sitting on a smaller, concrete base.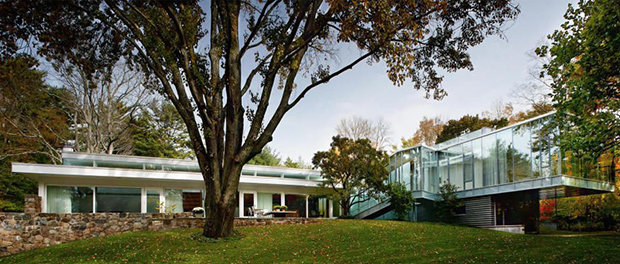 However, just four years later, in 1951, Breuer decided to build his family another hilltop home in the same town, and this time, he chose to rein in the Modernism, and get a little closer to nature.
Here's how Robert McCarter describes Breuer's New Canaan II home, currently on the market with an asking price of around $5m. "Set toward the road on the eastern side of the site, at the top of a sloping west-facing hillside, the single-story house presents an almost solid, stone-walled front to the east and opens through full-height glass to the west, toward the existing stand of trees and a distant view," writes McCarter in our new Breuer book.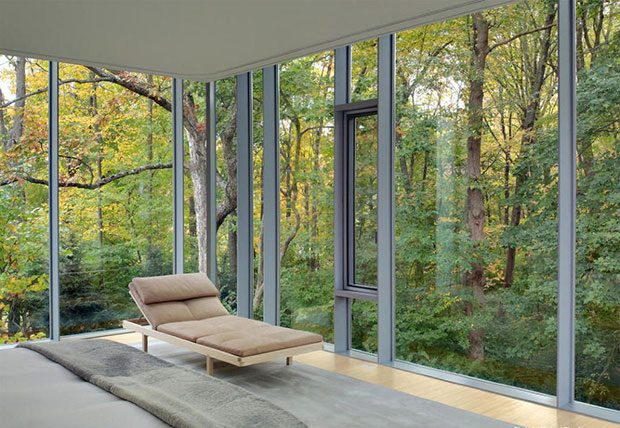 "The house is wood framed and flat roofed, with rubble stone and white-painted brick veneer on the exterior walls, asbestos cement board roof fascias, waterproof plywood fascias above the windows, tongue-and-groove cypress board soffits, and extensive glazing," McCarter goes on. "All the rooms of the house are unified into a single, expansive space by the continuous horizontal planes of the waxed flagstone floors and the cypress board ceilings."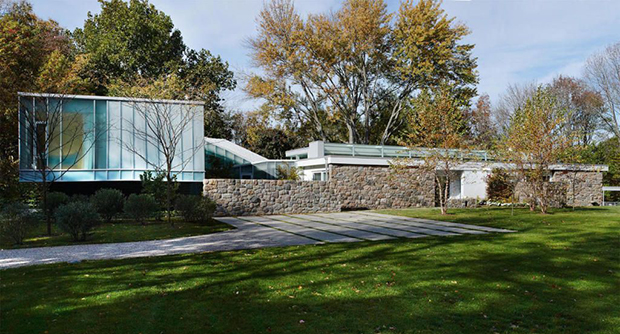 If all that sounds just a teeny bit dated for a $5m piece or real estate, don't despair. The house isn't entirely as Breuer left it. Earlier this year the acclaimed New York architect Toshiko Mori renovated and extended the building, adding, among other things, a glass-enclosed staircase.
In anyone else's hands this might have been seen as sacrilege, yet Mori, who like Breuer, teaches architecture at Harvard, said her work on the site "seeks to preserve the spirit of Breuer's design while updating the space to accommodate the lives of a contemporary family."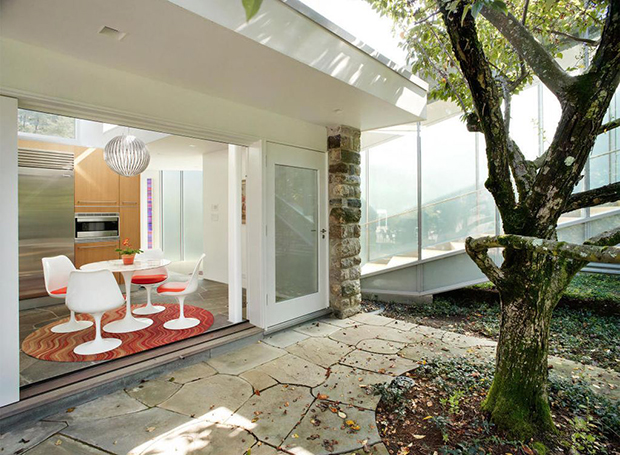 Soon, one contemporary family will get the chance to discover that spirit for themselves. For more on this house and many more works by this important 20th century architect order a copy of Breuer here.