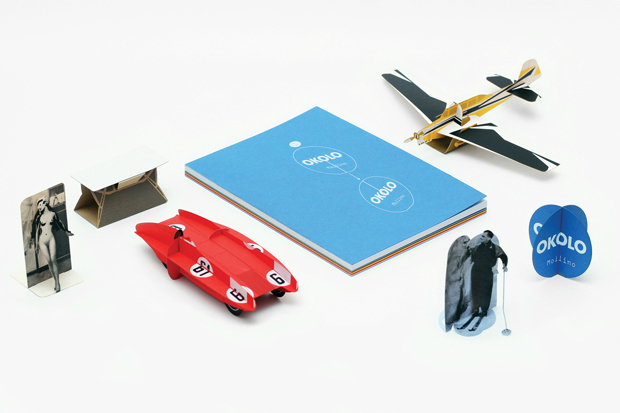 Your own pop up Carlo Mollino exhibition
Czech collective OKOLO celebrates the work and lifestyle of the hedonistic Italian designer
20th century renaissance man Carlo Mollino had a hand in every area of design - from aeronautics and automobiles to town planning, furniture and architecture. He famously proclaimed "Everything is permissable as long as it is fantastic," and it's true to say that his hedonistic personality, and the sheer quantity of his creative works set him apart from every other designer working in pre and post-war Italy.
Mollino's furniture designs received the greatest acclaim. Most of them were one-offs for specially commissioned interiors. His 1949 Reale table set a new world record for the auction of a piece of twentieth-century furniture in 2005 when it was sold at Sotheby's New York for $3.8 million.
Influenced by organic shapes, such as tree branches, animal horns and the human body (Mollino often photographed women naked on the furniture he made), the designer also conducted extensive research into materials, technology and the development of complex construction techniques.
Understandably, his influence is huge and provides much inspiration to designers working today. Now, OKOLO, one of the Czech Republic's most interesting creative agencies, established in 2009 by Adam Štěch, Jakub Štěch, and Matěj Činčera, is paying tribute to the designs of Mollino with a collection of pop out designs presenting the many and varied elements of his work and passions. OKOLO Mollino, contains 80 laser-cut paper models for self assembly. They include a racing car and a plane, a skiier, the obligatory beautiful woman as well as the _Reale _table.
"Each part brings a materialised symbol of Mollino's creativity," says OKOLO. "We pay tribute to a hedonist who managed to enjoy life to the fullest, surrounded by everything he was fascinated and amused by."
To showcase its project OKOLO has appropriately chosen the 3DH furniture showroom in Prague which features Mollino's Cavour desk originally designed for the Orengo House in Turin between 1949 and 1950 and now produced by Zanotta.
"Mollino will be gradually presented as a visionary designer, excellent architect, courageous race driver, fearless acrobatic pilot, style-setting skier, photographer and womaniser," OKOLO says. If you're interested in reading more about Mollino and his heady lifestyle, check out The Furniture Of Carlo Mollino (pictured in the photo above).