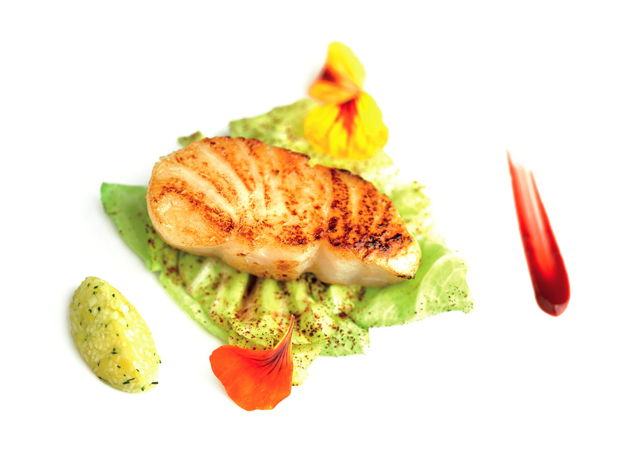 Pascal Barbot's Golden brown cod and new cabbage with papaya and green mango relish
Recipe taken from Coco
Serves: 4 people
Ingredients:
For the cod:
4 (120g) pieces of cod cut from the center of the fish
Lightly salted butter
For the cabbage:
1 new Duchy (or other "pointed") cabbage
Butter, for cooking
Fleur de sel
Smoked pepper
For the mango and green papaya relish:
Green mango
Yellow mango
Green papaya
Ripe papaya
Kaffir lime leaf
Lime juice
Fruity green olive oil, to taste
To serve:
Red curry paste
Olive oil
Method:
In a skillet, caramelize the pieces of fish, cook for 2 minutes on each side, season and glaze with the butter.
Cut the tender inner leaves of the cabbage into 4 pieces and cook in a skillet with some butter. Keep them crisp and season with fleur de sel and smoked pepper.
Chop an equal quantity of all the fruits into a brunoise, add the finely chopped kaffir lime leaf (use the yellow mango to sweeten). Add lime juice if more acidity is needed, drain, and add the olive oil.
Serve the fish with the cabbage, the papaya and green mango relish, and the curry paste, slightly diluted with olive oil.