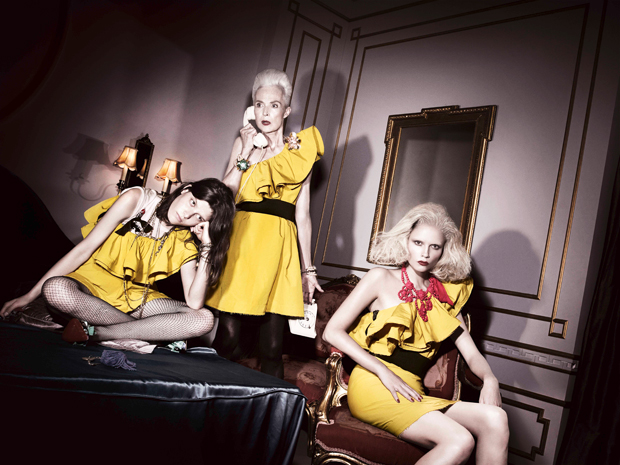 'Masstige' - the 'high end designer on the high street' effect
H&M leads the way in bringing designer prestige to the fashion conscious masses
There will be queues wrapping round Oxford Street on 23 November, as Alber Elbaz, the creative director of the much coveted house of Lanvin, unveils his first collection for H&M. Elbaz, known for a raw edged glamour that miraculously looks good on 18 to 80 year olds, has a lot of wooing power, and when priced at mass level his leverage will no doubt astonish. Cue a one-shouldered ruffle top, a golden yellow cocktail dress and a raw edged pewter grey shift; perfect for the oncoming party season.
The Swedish high street giant is a well versed player in 'masstige' - the growing business for prestige design at mass levels. The hype surrounding these launches - highly controlled press circulation of a limited number of designs - allows much to be discovered on the shop floor and in the customers hands as they battle to try on designs in a full throttle race to the till. Previous tie-ups have included Comme des Garcons, Viktor & Rolf and Matthew Williamson. It's a win-win scenario with designers given carte blanche on the design front and achieving hero worship amongst a far wider set of customers than their own premium lines could ever hope to reach with £1,000 plus price tags and hand finish details. H&M meanwhile benefits from the challenge in techniques which can then filter through to the factory floor on all lines.
While H&M excels in these one off ventures, business minds have been working hard to achieve more accessible mass fashion which still has the designer edge. Belgian designer Olivier Theyskens, revered for his dark, sultry, romantic handwriting - he was creative director of Nina Ricci for many years before parting ways - has now teamed up with US mass brand Theory (owned by Fast Retailing) which is distributed globally in boutiques and department stores. Theyskens Theory is his first capsule, unveiled during Paris week. Met with critical acclaim, Theyskens has now been appointed the fully-fledged creative director of the entire brand. His capsule is full of pieces that you know you will just wear and wear again, with their soft sexiness and sporty urban edge. Count in the line up, silk blouses, vest and Ts, all manner of jeans, tiny snug fitting jackets, wide beaten satin palazzo pants, pretty bias cut dresses and washed leather jackets. His take on urban boho hits the right note. The price range is not high street, but in a more comfortable arena to main designer brands. Parallel to Joseph, or Diane Von Furstenburg.
Celebrity clotheshorse Sarah Jessica Parker, forever associated with pretty dresses and heels, is getting highly involved in the creative direction of Halston Heritage, the lower priced revival line of pretty feminine pieces infused with the glamour of the 70s original. AW 2011 will see her direction more vividly: expect sinewy column dresses, wrap silk and jersey pieces and plenty of flow. The realignment of fashion price tags to our beleaguered pockets is a welcome venture that keeps the fashion business in the money, and us sated with glamour. Touché.
Harriet Quick is the Fashion Features Director at Vogue