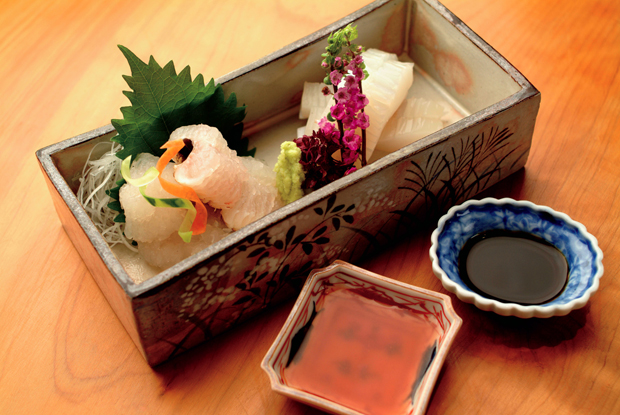 Naoya Ueno's Seared pike conger and blanched golden cuttlefish served cold
Recipe taken from Coco
Serves: 1
Ingredients:
120g pike conger
Salt
¼ medium-size golden cuttlefish
Wasabi, to taste Daikon (mooli), sliced, to serve
Kelp-infused soy sauce, to serve
Umeboshi paste, to serve
Method:
Slice the bones of the cleaned pike conger (using the honegiri technique), put on metal skewers, and lightly sprinkle the skin with salt.
Put iced water into a large bowl, and cover with plastic wrap (clingfilm).
Lightly scorch the skin of the pike conger on a flame and place it over the iced water to cool.
Clean the golden cuttlefish by removing the quill and guts, slice and spread it open, and place it on a mesh ladle with the outer skin side down. Blanch it in boiling water and immediately cool it down in iced water.
Remove the internal thin skin.
Slice the pike conger and cuttlefish with a sharp knife and arrange on a plate with a garnish of wasabi and sliced daikon.
Serve with a homemade kelp-infused soy sauce (matsumae shoyu) and ume boshi paste made by boiling down pickled plums (umeboshi) with sake.