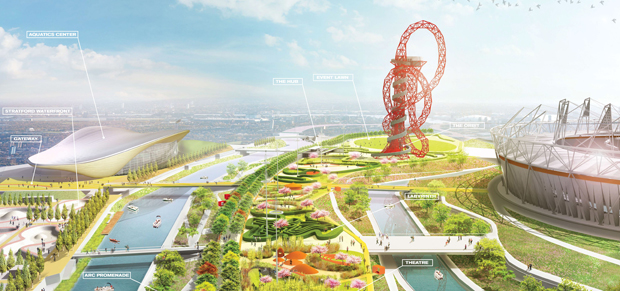 High Line architect to redesign Olympic Park
British-born landscape architect best known for Manhattan's High Line to turn 28 acres of London into a fun park
The man behind New York's linear walkway park, James Corner, won the job of developing the London Olympic Park's South Plaza - a 28-acre area next to the Aquatics Centre, the main stadium and the ArcelorMittal Orbit sculpture - towards the end of last year.
He's just unveiled his plans, which include designs for tree-lined outdoor rooms, open-air theatre, play spaces a music room and a fountain. Rather than letting the place run wild, Corner anticipates a tightly ordered outdoor space.
"The south park was always intended to be more actively programmed," the landscape architect says. "It's conceived of as a place that will be actively programmed so there will be something on every week - a food festival, a concert, an art show."
Corner's work is being overseen by the 2012 Games' London Legacy Development, an agency which hopes Corner's plaza will compare favourably with Copenhagen's famous fun park, Tivoli Gardens or New York's High Line itself.
Indeed, this isn't the only British urban space Corner's company has Continental-style designs on. As part of Liverpool's 2012 Biennial, Corner has been tasked with overhauling Everton Park, which the landscaper says could be Merseyside's answer to Antoni Gaudi's Park Güell. Corner's plans for Everton Park are on display at Liverpool's World Museum until 25 November, while the redeveloped Olympic park should open in Spring 2014.