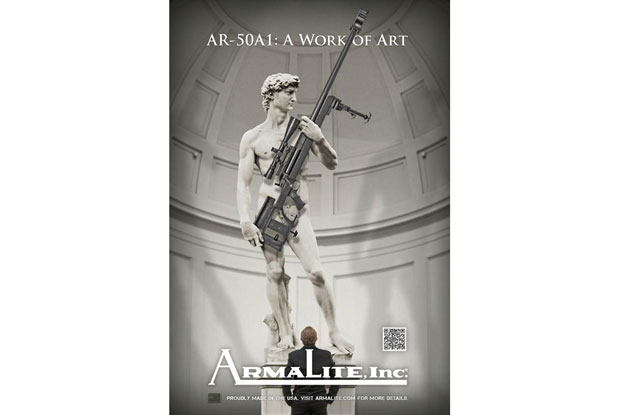 Italy V ArmaLite over use of Michelangelo's David
"The image of David, armed, offends and infringes the law" says government's culture minister
A row between US gun manufacturer Armalite and the Italian government intensified over the weekend when Italy's culture minister Dario Franceshini called for the company to withdraw an advert that depicts the latest version of its popular single shot bolt action rifle, the AR-50A1, draped across Michelangelo's David.
"The image of David, armed, offends and infringes the law. We will take action against the American company so that it immediately withdraws its (advertising) campaign," Franceschini tweeted early Saturday evening.
Last week, curator Cristina Acidini of the Historical Heritage and Fine Arts Board in Florence condemned the image which uses the tagline "a work of art". The Fine Arts Board has issued a legal warning telling ArmaLite to immediately withdraw all images that Italy says distort the Renaissance masterpiece. The Italian government claims copyright over any images of David, Michelangelo's monumental marble sculpture preserved since 1873 in the Accademia Gallery in Florence.
The government says that anyone wishing to commercially use a picture of the statue must receive legal authorisation and pay a fee, which, it claims, ArmaLite has not done. "The law says that the aesthetic value of the work cannot be distorted," Angelo Tartuferi, director of the Accademia, was quoted in Repubblica as saying. "In this case, not only is the choice in bad taste but also completely illegal."
Our great book The Art Museum (currently available at a special price) gives a good background to Michelangelo's work. Commissioned by the board of directors of Florence Cathedral, the figure was intended for one of the niches on the exterior of the Duomo. Its overly large upper body and head were indeed to compensate for the statue's projected placement high off the ground, where distance would right these imbalances. When the statue was finished, however, it was placed by the main entrance of the town hall, the Palazzo Vecchio, the most honorific spot in the city.
Inspired in part by the other statues on the cathedral and on the church of Orsanmichele, the book goes on, David also emulates ancient statuary in his contrapposto stance, with one leg straight, bearing the body's weight,the other slightly bent and in repose. David's face, similar to that of Donatello's St George, is tense with apprehension as he stands ready to defend Florence." Take a look at The Art Museum in the shop and buy it along with our dedicated Michelangelo book.