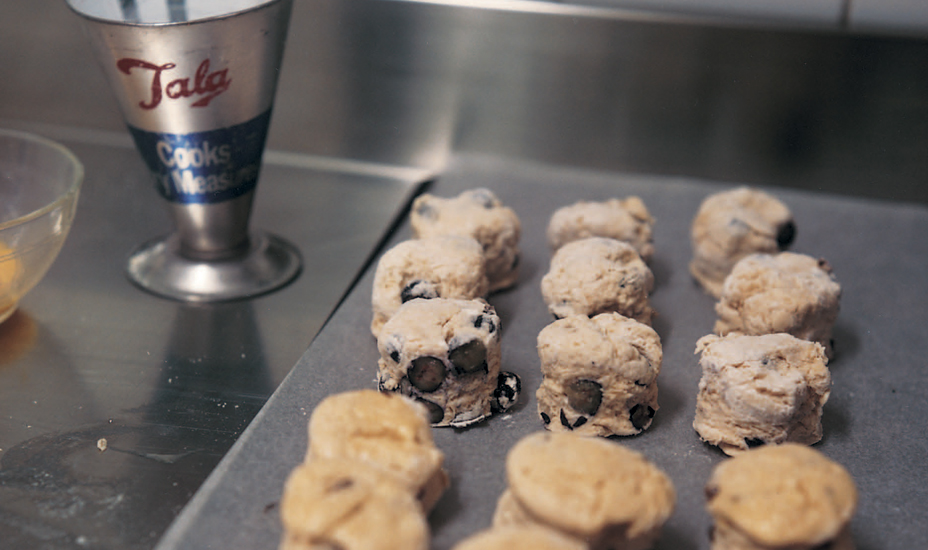 Blueberry scones
A recipe from Breakfast, Lunch, Tea
Preparation: 30 minutes
Cooking: 45 minutes
Serves: 6
Makes: 12-15 scones
Ingredients:
500 g (3⅓ cups) plain (all-purpose) flour, plus extra for dusting
1 handful wheatgerm or wholemeal (wholewheat) flour or cornmeal (optional)
2 very heaped tablespoons baking powder
2 heaped tablespoons caster (superfine) sugar
1 teaspoon salt grated zest of 1 lemon or 1 orange
110g (scant ½ cup) unsalted butter, cut into pieces, plus extra for greasing
2 handfuls blueberries
2 eggs about 300ml (1¼ cups)
whole, semi-skimmed or soya (soy) milk
1 tablespoon demerara (light brown) sugar
crème fraîche (sour cream), to serve
Method:
Preheat the oven to 200°C/400°F/Gas Mark 6 and grease a baking tray with butter.
Sift the plain flour into a bowl and add the wheatgerm or wholemeal flour or cornmeal, if using. Mix in the baking powder, caster sugar and salt, then add the butter and rub in with your fingers until the mixture resembles fresh breadcrumbs.
Mix in the lemon or orange zest. Add the blueberries and mix well.
Beat one of the eggs in a measuring jug, then add enough milk to reach the 300ml (1¼ cup) level. Make a well in the middle, pour in the liquid and use a fork to work it into the dry ingredients.
Finish by hand but without overworking the mixture – just lightly bring everything together to form a softish but firm dough. If it is too dry add a little more milk, and if it is too wet add some more flour. It must not be sticky at all.
On a lightly floured surface, pat or roll the dough into a solid shape about 3cm (1¼ inches) thick. Using a 5cm (2inch) cutter, cut the dough into rounds and place them on the greased baking tray so that they almost touch.
Beat the remaining egg and use to glaze the tops of the scones. Sprinkle with the demerara sugar and bake for 15– 20 minutes until lightly golden.
The scones will stick together, so take them gently apart when they have cooled a little.
Serve warm with crème fraîche.