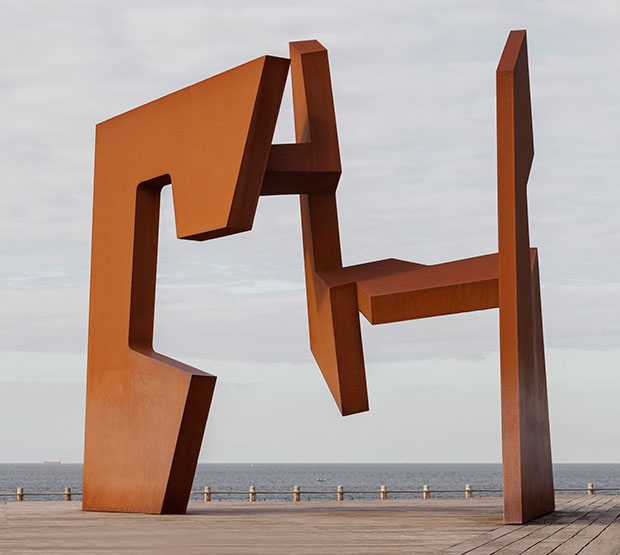 One thing not to miss in San Sebastián
Construcción Vacía, featured in our Wallpaper* City Guide, is a fine example of Spain's fight for artistic freedom
Given its political backdrop, the quest for artistic freedom in Spain has perhaps been necessarily more tumultuous than elsewhere. Jorge Oteiza and Eduardo Chillida's Grupo Gaur took the fight to the dictatorship in 1966, casting off the vestiges of costumbrismo (folkloric realism) at the same time. For this reason, sculpture retains an elevated status in the country not least in the seaside town of San Sebastián, near Bilbao. The resort is an art nouveau gem, with stately belle époque facades and a nose for a party.
Jorge Oteiza presented his sculpture Construcción Vacía in miniature as part of a series in the 1957 São Paulo Biennial, and won top prize. However, he then abandoned the project altogether, and it wasn't until 2002, just a year before his death, that this 6m steel replica was installed below Monte Urgull.
It seems to contort when seen from differing angles, and frames the (at times wild) Cantabrian sea. Across the bay is Eduardo Chillida's Peine del Viento (Wind Comb), a trio of iron giants that whistle in the ocean breeze, finished in 1977.
Oteiza also made another strong statement outside Bilbao's town hall with Variante Ovoide de la Desocupación de la Esfera, in 1958. These works embody the spirit of what it means to be Basque. Forged from noble materials, they withstand the test of weather and time.
To find out more about this great European city get our newly updated Wallpaper* City Guide, a tightly edited, discreetly packaged list of the best a location has to offer the design-conscious traveller, whether you're staying for 48 hours or five days, visiting for business or pleasure. Download the Wallpaper* City Guide to Bilbao/ San Sebastián here or buy the print version here.