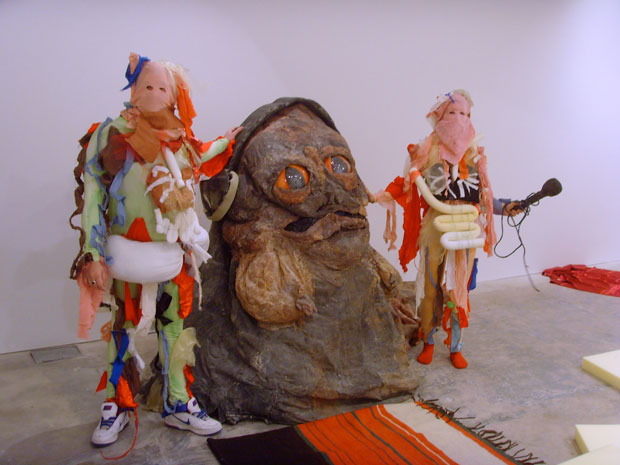 Turner Prize 2012 nominees announced
Spartacus Chetwynd, Paul Noble, Luke Fowler and Elizabeth Price are this year's nominees
Tate Britain has just announced the four artists who have been shortlisted for the Turner Prize 2012. They are Spartacus Chetwynd, Luke Fowler, Paul Noble and Elizabeth Price.
Spartacus Chetwynd has been chosen for her solo exhibition at Sadie Coles HQ, London. Combining a broad spectrum of historical and cultural sources, Chetwynd makes paintings,carnivalesque performances and sculptural installations utilising handmade costumes and sets. She confuses the boundary between performer and spectator, creating an atmosphere of joyful improvisation. Her work includes An Evening With Jabba The Hutt 2003, in which she recast the villain from the Return Of The Jedi Star Wars film as a "Stevie Wonder-type smooth operator".
Luke Fowler was chosen for his solo exhibition at Inverleith House, Edinburgh, which showcased his new film exploring the life and work of Scottish psychiatrist, R. D. Laing. Fowler interweaves found footage and new material into accomplished and immersive films that evoke the atmosphere of a particular era, revealing how the relationship between individuals and society changes through time.
Paul Noble was chosen for his solo exhibition at Gagosian Gallery, London, which brought together the painstakingly detailed and engrossing drawings of the fictional metropolis Nobson Newtown. Undercutting the precise, technical drawing is a dark satirical narrative which unfolds in the micro-cosmos of these monumental works.
Elizabeth Price was chosen for her solo exhibition at BALTIC, Centre for Contemporary Art, Gateshead, in which she presented a trilogy of video installations. Price reanimates existing archives of imagery, texts and music to explore our complex relationship to objects and consumer culture. Her carefully sequenced films guide us through immersive virtual spaces, derived from the cultural debris of the material world.
The Turner Prize award is £40,000 with £25,000 going to the winner and £5,000 each for the other shortlisted artists. Established in 1984, the prize is awarded to a British artist under 50 for an outstanding exhibition or other presentation of their work in the twelve months preceding 24 April 2012. It is intended to promote public discussion of new developments in contemporary British art.
Work by the shortlisted artists will be shown in an exhibition at Tate Britain opening on 2 October 2012. The winner will be announced at Tate Britain on December 3. Who do you think should have been on the list? Let us know below.