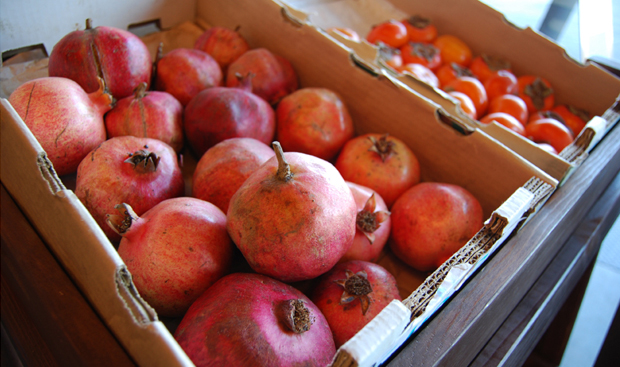 Fresh off the boat: the local produce regenerating a San Francisco landmark
Bonnie Tsui on the foodie developments taking place at the city's old Ferry Building
It used to be that the ferryboat was the only way to arrive in San Francisco. Built in 1898 on the east side of the city overlooking San Francisco Bay, the Ferry Building once received up to 50,000 commuters a day in grand style; a turn-of-the century center of travel and commerce, the two-story skylit structure was designed with an elegant 245-foot-tall clock tower modeled on the bell tower of a 12th-century Spanish cathedral in Seville.
But after the Bay Bridge and the Golden Gate Bridge both opened in the mid-1930s, the Ferry Building began a half-century of decline as boat gave way to automobile. Happily, recent years have seen the restoration of the historic building and its transformation into a soaring European-style food hall, with specialty purveyors, restaurants, and cookery-oriented shops inside, plus an outdoor farmers' market in Ferry Plaza that attracts more than 25,000 people a week. The market connects local farmers from the Bay Area with chefs and customers; it also offers a fantastic array of artisan street foods: empanadas filled with gruyere and prosciutto, wood-fired pizza, free-range pork tacos. And the building still functions as a ferry terminal - an outdoor pedestrian wharf runs alongside landings for ferries connecting San Francisco with destinations around the bay, including Oakland, Sausalito, and Larkspur.
There isn't a better way to get a feel for what San Francisco is about today than to arrive by ferry for a stroll along the waterfront and through the marketplace for some culinary exploration. Two arcades lead to the sweeping interior arches of the building's central nave, which comprises the main food hall. Here you'll find everything that's in fashion about food, all with a locavore bent, from fresh bread (at Acme Bread Company, which bakes loaves of all varieties from organic flour in an on-premises hearth oven) and rich, creamy cheeses (at Cowgirl Creamery's artisan cheese shop, which sells award-winning handmade cheeses from their two nearby creameries in Petaluma and Point Reyes Station) to the handcrafted mid-century pottery that you'd serve them on (at Heath Ceramics, a design-oriented shop that has a live-video feed from its Sausalito factory just across the Golden Gate Bridge).
Some of the city's best chefs have also set up outposts here, including two James Beard Award-winners: Charles Phan, who serves up elegant, modern Vietnamese fare at The Slanted Door; and Traci Des Jardins, whose Mijita is an homage to fresh Mexican dishes with a Northern California flair. As the sizable crowds waiting for tables will attest, the restaurants have elevated themselves to be top destinations on any serious food tourist's must-eat list.
In helping to create a new center for the culinary arts in the Ferry Building, these artisan producers and purveyors have helped revive an architectural landmark - and the rest of the waterfront's bustling piers, which have also been recently restored to house all manner of exciting cafe and restaurant spaces - with a verve and gusto that can only come from those who are crazy about food.
Bonnie Tsui lives in San Francisco. She is a regular contributor to The New York Times and the author of American Chinatown.