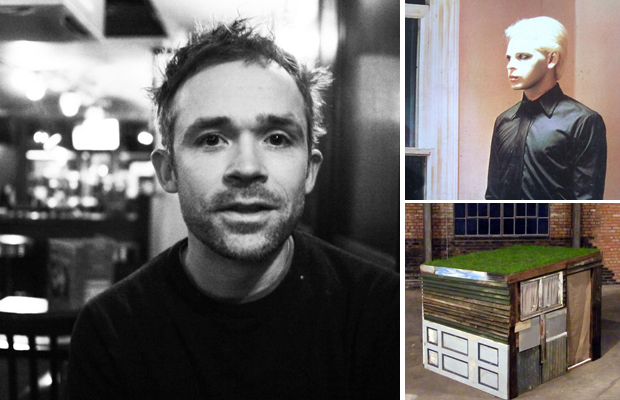 Ben Rivers' Muse Music
The experimental filmmaker on the music that gets him in a creative mood
"Growing up in the dark depths of Wessex I was lucky to have access to two great sources of music," filmmaker Ben Rivers tells Phaidon. "One was my Dad's excellent and extensive record collection, of which the prog and early metal like Black Sabbath, Van der Graaf Generator, Soft Machine, Pink Floyd did the most for me. The other thing was a night put on once a week in the nearest town to the village I grew up in. This night featured many of the indie bands doing the rounds in the late 80s and somehow they got them to play in this tiny room above a pub - Ride always played memorable gigs. Thenceforth, going to see live music became a regular part of my life and one of the main reasons I ended up moving to Brighton and staying there for a very long time. Its difficult to say just how exactly how music has informed my work but I know its deeply embedded in there."
Rivers' films are rich, cinematic portraits that explore wilderness environments and self-contained worlds, representing memory through visual fragments. Primarily shot on 16mm black and white film, sometimes on out-of-date stock, Rivers' work has the appearance of ageing, archival footage. The artist shoots on an old Bolex wind-up camera, and works creatively within its limitations. The aged appearance of the film is also partly a consequence of Rivers hand-processing each film in his kitchen sink. He compares the creation of his films to assembling a collage. The distanced quality of his work – albeit a knowing construction – extends to the spaces and subjects that the films focus on. Whether exposing desolate and crumbling interiors in works like Old Dark House (2003) and its sequel House (2005), or portraying the hermetic world of the 'outsider' figure Jake Williams in the much acclaimed This is My Land (2006), Rivers' work is engaged with zones at the edges of contemporary life.
"Music is a secret key to my films, it influences the ideas, the rhythms of editing, the mood of films depending on what is dominating my listening at the time, but the music rarely ends up in the finished film, so its there without being there. Unless it is music the people in my films are listening too - while making my new feature film, Two Years at Sea, the main character Jake was listening to old tapes of Indian music he picked up in the late 70s when he worked in India, and some old British folk from his earlier years at Bogancloch, these then became an integral character in the film." We've put his playlist on Spotify and iTunes so you can get an idea of the stuff that inspires him but before you listen have a read of what he says about it.
Tubeway Army Down In The Park – As a child of the 70s and 80s, who better to bridge those decades than Gary Numan? A work of great melancholy that also always reminds me of my friend Jeremy Butler - we became mutual catalysts for making art ever since we met on our pre-foundation at Yeovil College aged 16. After trying every possible means of making work we both settled predominantly into making three-dimensional work, and Jeremy was also the first to make a super8 film. We had a book called 'Ways Of World-Making' by Nelson Goodman, and this could have been one the most important stimuli for us both, (along with getting high, listening to music, reading Ballard and Dick, watching Tarkovsky, Jarman and other filmmakers our fresh minds had been ignorant of), and remains central to what we both still do, the idea that art is not a copy of the world but world-making.
Brian Eno _The True Wheel _ 
– My Dad had the first few Roxy Music records, which I loved, not only the music but the sleeves, then later realised that it was Brian Eno who was the true genius, as evidenced in so much of what he did since, not least Taking Tiger Mountain which has brought me out of low-ebbs a number of times. If I am sitting down for a couple months, struggling over an edit that seems to be going nowhere, I find plenty of ways of procrastinating - listening to music and dancing around between work room and kitchen while the kettle boils is a major distraction. Listening to Taking Tiger Mountain helped me specifically through the early part of Two Years at Sea, when I had shot a whole lot of colour film and kept looking at it, thinking it was wrong but not sure why - thankfully I finally decided to shoot it in black and white.
Sleep Dopesmoker/Jerusalem – Doom metal is one of my favourite genres of music and it feeds into my thoughts and films continuously, particularly my doomiest film I Know Where I'm Going. I listened to Doom not only while driving but more so during the editing. The film is post-apocalyptic and talks about the Earth in 100 million years time, and what traces will be left by humans after that amount of time, which seemed like a very doomy theme - and for a while there were bits of this music on the soundtrack, slow moving metal over slow moving shots along deserted roads, but then I realised that it was only necessary to help me edit, and not needed in the final film - it's embedded in spirit.
Factory Floor _Two Different Ways _ – Sometimes the key to making work is taking a break and not making work. This is something I have a bit of trouble doing, my instinct is to work like an old donkey. Listening to music is a way of getting to different states of repose from work, whether that is sitting with the doors open onto the garden and relaxing to some nice long drone or dancing around like a madman in a way I would never do in public. Without music and reading I would keep working and would eventually implode.
Radio Palestine Exploding Briefcases Of Cairo – When my friend introduced me to Sublime Frequencies record label a few years ago it opened a whole new world to me - amazing street recordings, unknown music from the far reaches of the world, and these compilations of radio surfing. These radio collections in particular mirror my own interests in sound collage - and some bits have ended up in my films.
Michael Hurley __ Tea Song__ 
– My thoughts entirely Mike. Not only does folk play a lot while I'm working, but tea flows like the golden rivers of Babylon.
Eyehategod _Serving Time In The Middle Of Nowhere _ – I think of my filmmaking practice as physical, about being in places, getting hot or cold or dirty - and in a recent film that includes being immersed in a gig in Norway. There is nothing like seeing live music, especially when its loud and dirty - and there's nothing more invigorating than being screamed at and spat on by an alcoholic heroin addict during a show barely held together but somehow just held together enough to be totally brilliant. Best Sludgecore band ever.
Lichens __ M St r ng W tchcr ft L v ng n Sp r t__ 
– My next film, A Spell To Ward Off The Darkness, is a collaboration with American artist Ben Russell and features Robert Aiki Aubrey Lowe, otherwise known as Lichens. When Ben and I were first thinking of who to cast in the film he showed me this clip, and immediately could see he has a powerful presence which could be carried into the film. I like to daydream thinking about films that may be, I've found Rob's music a pretty good way into that world.
Liturgy High Gold – Following on from the above - A Spell To Ward Off The Darkness is a film in three parts, and in the final part Rob plays in a Black Metal band, which we just filmed in a dank dark fleapit in Norway. The band was a collaboration between esteemed artists from other bands, so we had the luxury of working with Weasel Walter (Flying Luttenbachers/ Hatewave), Nick McMaster (Krallice), Robert (Lichens/OM) and Hunter Hunt-Hendrix from Liturgy. This track goes a long way towards illustrating the kind of intensity of immersion we hope to wallow the audience in for this part of the film.
__Aphrodite's Child _The Four Horsemen ___ – I'd love to put this in a film - maybe over shots of the world burning. Not sure how it has affected the work I make, apart from maybe just being a pinnacle to achieve something close to its greatness. The best track from concept album 666 - and it's Vangelis and Demis Roussos - wow!
You can also listen to these creatives' Phaidon Muse Music playlists:
John Pawson
Antony Micallef
George Condo
Martin Boyce
Simon Fujiwara
Karla Black
Mark Titchner
Wilhelm Sasnal
Elizabeth Peyton
Chris Johanson
Edmund de Waal
Samuel Wilkinson
Roger Hiorns
Alex Hartley
Brian Griffiths
Michele Howarth Rashman
Piers Secunda
Haroon Mirza
United Visual Artists
Nathaniel Mellors