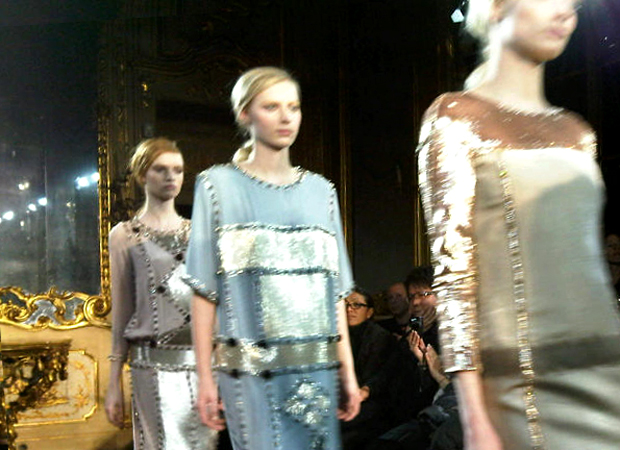 Opulence is back on the menu at Milan Fashion Week
Harriet Quick, Fashion Features Director at British Vogue, reports on the return of silk, chiffon and fur
Between a shift dress in fishscale sequins topped with a shaggy eco fur coat (Prada), a pussycat bow, long chiffon gown in emerald with matching big knickers and a fedora (Gucci), or a gold embroidered velvet sheath dress (Pucci), ­ you will soon understand that Milan designers are all about showing off this season, as a sense of opulence and joyousness returns to the fashion menu.
What they have been working hard to achieve is easy-to-wear pieces that have a sense of drama and intelligence, rather than just offering pure bravura. It could be a silk damask covered with daisies and cut into a cocooning skirt suit at Jil Sander, or even a Lurex threaded crochet knit at Missoni or a furl-fronted blouse at Fendi, but the effort was to create pieces that have a 3D appeal, a luxe allure, and plenty of artisan pedigree.
New design duo, Aquilano Rimondi, call it Maximal Modernism. It's rare to see a new label rising through the ranks but their way with decoration and colour is breath taking. Imagine a swing back jacket in nougat mohair that gradates into handpainted tobacco, then gold hem? Or a shift dress with a crisscross graphic of gems and velvet ribbon.
The perfectionist Thomas Maier at Bottega Veneta worked his fabrics to the max but gave them perverse, destroyed touches. A tweed box-pleat ivory skirt might come with a charcoal smudged raw hem or a Pollack like silk print slip literally shredded into tatters and slipped under a delicate lace vest dress. A printed velvet handbag, meanwhile, could be lacerated and reconstructed with strips of exotic skin to play on the brand's woven-leather signature.
Fashion with love, effort and plenty of intelligent flash certainly gets my vote.
Harriet Quick is the Fashion Features Director at Vogue UK