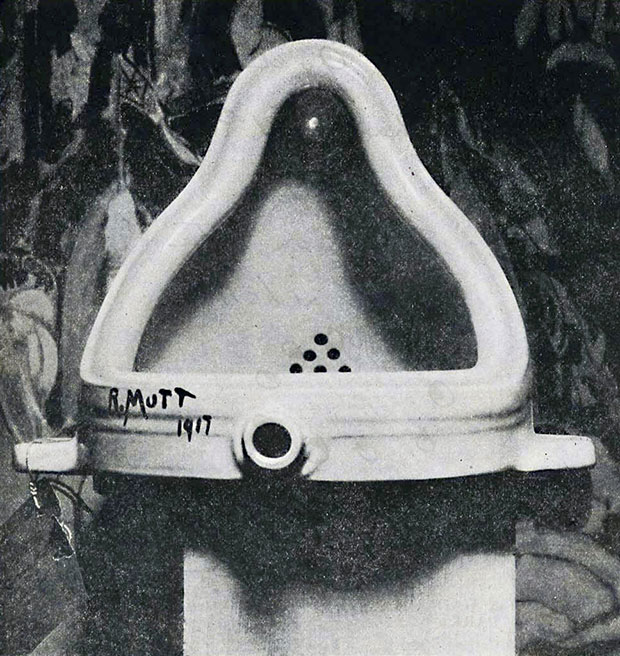 The fascinating tale of Marcel Duchamp's Fountain
Photographed by Alfred Stieglitz, urinated on by Brian Eno, sometimes cited as the work of a German baroness, Marcel Duchamp's Fountain was arguably the first ever piece of conceptual art and harbours a fascinating backstory
Photographed, then subsequently thrown away, by Alfred Stieglitz, urinated on by Brian Eno and sometimes cited as the work of a Bauhaus baroness rather than the man it is most commonly associated with, Marcel Duchamp's Fountain is arguably the first piece of conceptual art ever, certainly the most famous ready made in art history, and has inspired countless artists from Grayson Perry to Damien Hirst, Richard Hamilton to Richard Wentworth and inspired many others to 'interact' with it in the most obvious way in gallery and museum settings. . .
In the gently flowing curves of Fountain Duchamp biographer Calvin Tomkins claimed one could discern 'the veiled head of a classic Renaissance Madonna or a seated Buddha or, perhaps more to the point, one of Brâncuși's polished erotic forms. Others have likened the work to an erect penis and testicles or even "a modest woman with her head covered".
One thing is clear: for such an important landmark in art history Fountain was incredibly short lived. After photographing the piece in his studio, Alfred Stieglitz disposed of the urinal, meaning that what you will gaze upon in any gallery or museum now will be one of 17 replicas commissioned by Marcel Duchamp in the 1960s.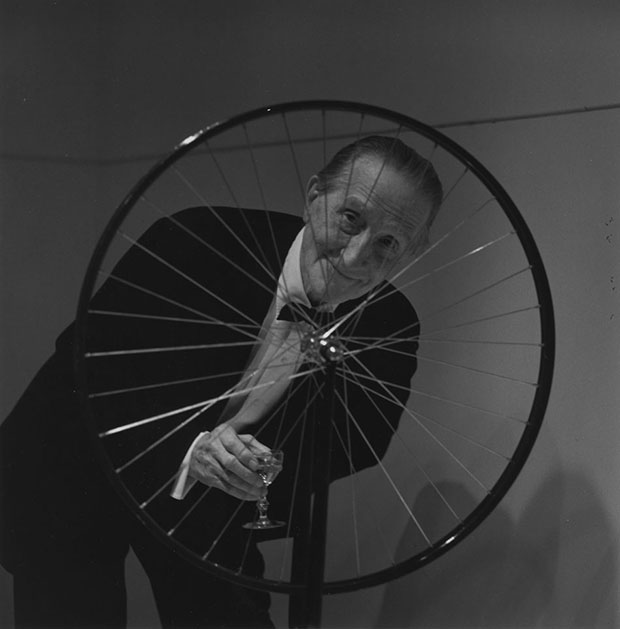 With Fountain Duchamp pretty much invented conceptual art and thus cut the accepted link between an artist's labour and the supposed 'merit' of the work. It has been mooted that in putting the urinal forward as a work of art Duchamp, who came from a small town near Rouen, close to the battlefields of World War One, was discrediting the power and standing of the virtuoso artist and the critics who sat in admiration and judgment in the same way that the awful atrocities of the war had discredited the powers of authority.
With Fountain Duchamp, who had arrived in New York from Paris in 1915, revolutionised the 'creation' of art and effectively posed the questions: Who is an artist? And what is art?
Duchamp had begun deliberating on the idea of a 'readymade' a year or two earlier. The first, in 1913, was a bicycle wheel on a stool which he said he simply 'liked looking at'. Despite its equally lowly beginnings, Fountain was an altogether sexier offering – sexual attraction and sexual difference being two of Duchamp's obsessions.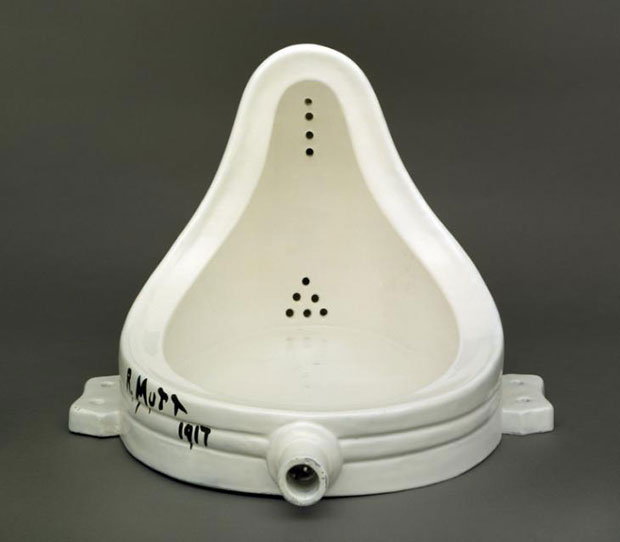 Of all Duchamp's readymades, Fountain is the best known perhaps because its symbolic meaning takes the conceptual challenge posed by the readymade to its most visceral extreme. Duchamp, who saw America as the land of the huckster and Fountain as much practical joke as it was a serious attempt to reconfigure the art world, signed the porcelain urinal 'R.Mutt (a possible reference to the gambler Mutt in Bud Fisher's Mutt and Jeff cartoon) and it was submitted for the exhibition of the Society of Independent Artists in 1917, the first annual exhibition by the Society - of which Duchamp was a board member - to be staged at The Grand Central Palace in New York.
However, Duchamp was not known as its creator (though most suspected him to be). Instead, as Alfred Stieglitz wrote "A young woman sent a large porcelain urinal on a pedestal to the Independent(s)."
Duchamp never identified his 'collaborator' – if indeed there was one - but the young woman of Stieglitz's description has variously been identified as either Baroness Elsa von Freytag-Loringhoven, an eccentric German poet and artist who loved (but who was jealous of) Duchamp; or Louise Norton, who contributed an essay to (the art and Dada journal) The Blind Man discussing Fountain.
Certainly, Freytag-Loringhoven had created broadly similar, scatological works but nothing that held the thinking expressed in Duchamp's piece. Norton meanwhile, was living at the time in an apartment owned by her parents at 110 West 88th Street in New York City, and this address is partially discernible (along with "Richard Mutt") on the paper entry ticket attached to the object in Stieglitz's photograph.
Duchamp later said that he had not made his own identity known because of his position on the society's board. As 'R Mutt' was an unknown Duchamp thught he could test the board's openness to art that didn't conform to conventional standards without compromising his relationship with the other board members.
But Fountain was rejected by the committee, even though the rules stated that all works would be accepted from artists who paid the fee. After some consternation and a brief discussion it was decided that the six dollar submission should be returned to 'Mr. Mutt' with a letter stating that it had no place in an art exhibition. Duchamp immediately resigned from the society stating that "The only works of art America has given (the world) are her "plumbing and her bridges".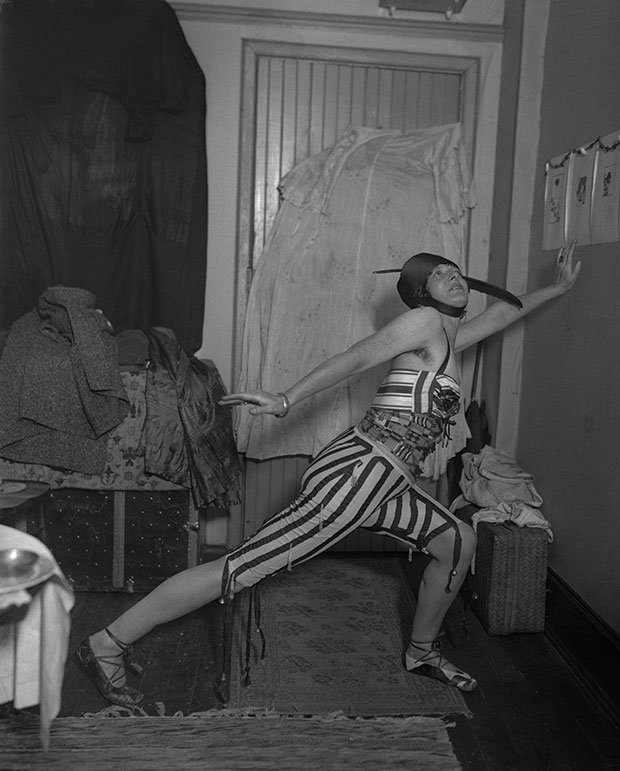 Philosopher Stephen Hicks believed that Duchamp, who was quite familiar with the history of European art, was making a profoundly provocative statement with Fountain:
"The artist is a not great creator—Duchamp went shopping at a plumbing store. The artwork is not a special object - it was mass-produced in a factory. The experience of art is not exciting and ennobling - at best it is puzzling and mostly leaves one with a sense of distaste. But over and above that, Duchamp did not select just any ready-made object to display. In selecting the urinal, his message was clear: Art is something you piss on."
Learn more about Marcel Duchamp, conceptual art, readymades in The Art Book, Art in Time, Art & Today and our two books on Dada.