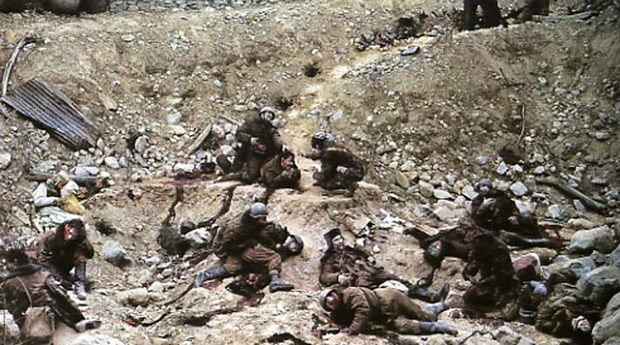 Jeff Wall photograph sets new world record
Phaidon Collector's Editions photographer's print Dead Troops Talk reaches $3.6million at Christie's New York
We were excited but not surprised by the news that one of favourite photographers, Jeff Wall, set a new world sales record at Christie's a few days ago. The Canadian photographer's Dead Troops Talk became the most expensive Canadian photograph ever sold at auction at $3.6 million. Before bidding began Christie's had estimated that the 220 X 417 cms work – the full title of which is Dead Troops Talk (A vision after an ambush of a Red Army patrol, near Moqor, Afghanistan winter 1986) could sell for between $1.5 and $2 million. The image was created with actors in a studio in 1992 and features a scene of dead soldiers rising up and talking.
Wall is known for his large-scale photographs of contemporary everyday genre scenes. His work regularly sells for more than a $1 million in the US. His 1989 image The Well sold for $1.1 million at Sotheby's in 2008 and the same year The Forest sold for just over $1 million at Sotheby's New York.
We should point out that it's possible to invest in a limited edition Jeff Wall print for considerably less than that. The Phaidon specially bound monograph Collector's Edition comes with a print Fortified Door, measuring 28.5 X 22.7 cms for just $4,500 or £2900. This highly collectible item is on our Collector's Editions homepage now.