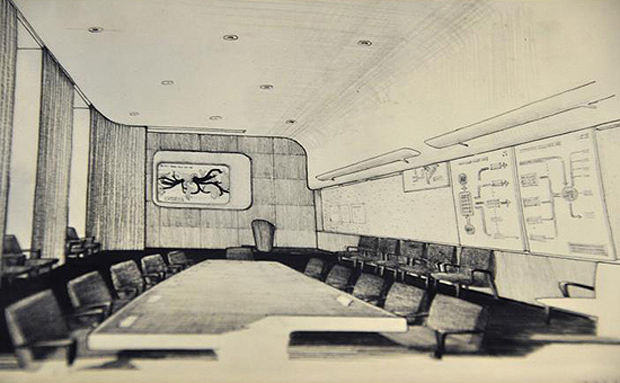 Eero Saarinen's War Room
Fascinating exhibition examines the mid-century architect and designer's role in the nascent CIA
He's better known for his smoothly curved Tulip chairs, St Louis' Gateway Arch, or New York's JFK airport. However, Finnish-born American architect Eero Saarinen's war record apparently gave rise to some of mid-century design's oddest legacies, as can be seen at the traveling exhibition, Eero Saarinen: A Reputation for Innovation, currently on show at Los Angeles Architecture and Design Museum until January 3.
During World War II, Saarinen served a department chief in the OSS, the wartime precursor to the CIA. While he didn't carry a pen-gun, or tip truth serum into the mouths of SS officers, he did produce a remarkable amount of military material.
"Essentially, he oversaw all visual communication for the OSS," exhibition curator Mina Marefat tells the LA Weekly. "The OSS was competing with Hitler's propaganda machine at the time and the U.S. had to compete. That work included pilot models of new weapons and devices, models for use by military schools, and graphic public propaganda...He also designed the war room in the White House."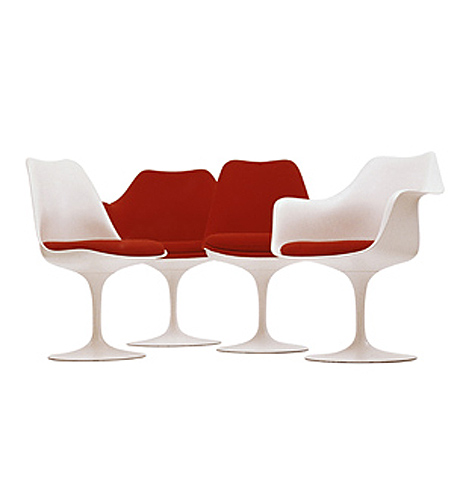 Though Saarinen's room wasn't built until after the war, Marefat says the architect's focus on the plans informed his later work. "It was because of designing the war rooms that he got so much into chairs," Marefat claims. So hipster homeowners be aware, there may be a bit of Dr Strangelove in your favourite chair.
Check out our Eero Saarinen book by architectural historian Jayne Merkel which traces Saarinen's life and career from his childhood in Finland to collaboration with his father, architect Eliel Saarinen, to his iconic airport projects of the 1960s. Numerous interviews with Saarinen's colleagues are included along with architecture critics, such as Robert A M Stern, Florence Knoll Bassett and Cesar Pelli, who examine how Saarinen was viewed in his own time and today. It's worth 450 points when you join Phaidon Club.