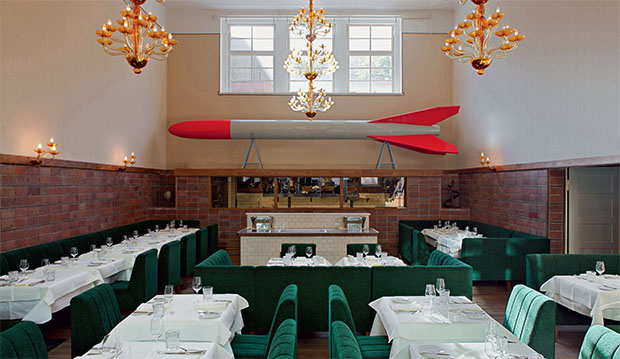 One thing not to miss in Berlin
The city is finding fresh, refined ways to engage with its past according to our new Wallpaper* City Guide app
What sort of personal characteristics best equip a visitor to today's German capital? A refined culinary palate, rather than a high noise-tolerance threshold, according to our newly released Wallpaper* City Guide app.
"The illegal clubs that sprang up in the 1990s – in hard-to-find ruins with little ventilation and few fire exits – have fallen victim to gentrification," the guide explains. However, a number of award-winning restaurants have opened in their place.
Take the Jüdische Mädchenschule, an elegant 1930s five-storey brick school designed by Alexander Beer. The building was returned to the Jewish community in 2009 and converted to its current incarnation by architects Grüntuch Ernst in 2012. It's now home to three galleries, a museum and a pair of restaurants, including the high-end Pauly Saal in the former gymnasium. The interior is adorned with quirky art pieces, Murano chandeliers and ceramic wall tiles. A large red-and-white missile by Cosima von Bonin is mounted above the open kitchen, where chef Michael Höpfl has been garnering acclaim for his elevated take on regional and seasonal fare. Enjoy dishes such as Pomeranian ox entrecôte or suckling pig and black pudding tortellini. Auguststrasse 11-13, T 3300 6070,www.paulysaal.com
To find out more about this great European city get our newly released Wallpaper* City Guide, a tightly edited, discreetly packaged list of the best a location has to offer the design-conscious traveller, whether you're staying for 48 hours or five days, visiting for business or vacation. Download the Wallpaper* City Guide to Berlin here.