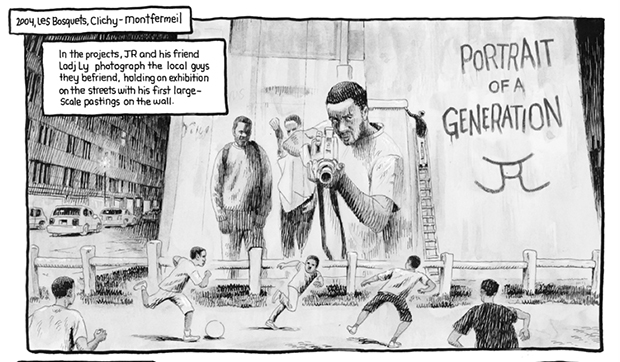 JR's life in black and white
Get to know the French artist and activist via a suitably graphic medium - the comic strip
JR: Can Art Change the World? is the first comprehensive monograph dedicated to the innovative artist JR and its visual boldness and imaginative presentation does him the justice he deserves.
Take its introduction, a comic strip entitled Beginnings by Joseph Remnant, which tells the story in black and white pen strokes of JR's fascinating rise to prominence. We see how his first artistic etchings were scratch marks on his desk in the high school he attended growing up on the outskirts of Paris. The comic strip reveals how, in his mid-teens, he started to run with a group of taggers, crawling over city rooftops by night, leaving his mark on chimney stacks. And it also depicts the discovery of a film camera at the Charles De Gaulle-Étoile RER station in Paris, which he began to use to document the tagging escapades of his friends.
He pasted up the resulting photographs around the city on walls, eventually taking these "street exhibitions" international, travelling and exhibiting in cities such as Rome and New York. Even after the pastings were removed by the authorities, his spray painted frames remained; his indelible mark on the city walls.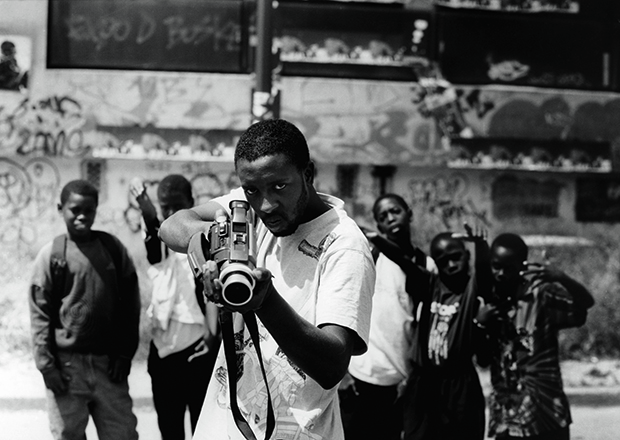 We see how his work took on a more social dimension when he befriended a group of guys in one of the Parisian projects. There followed an incident in which three of them were killed after a police chase, prompting riots, in which one of JR's pastings formed a backdrop, on a wall behind a burning car. This was a turning point for JR. He returned to the projects, this time with a camera and 28mm lens, determined to show the world a truer picture of the guys living there; "not angels, but not monsters either." Read more about our new the book here, and pre-order your copy here.