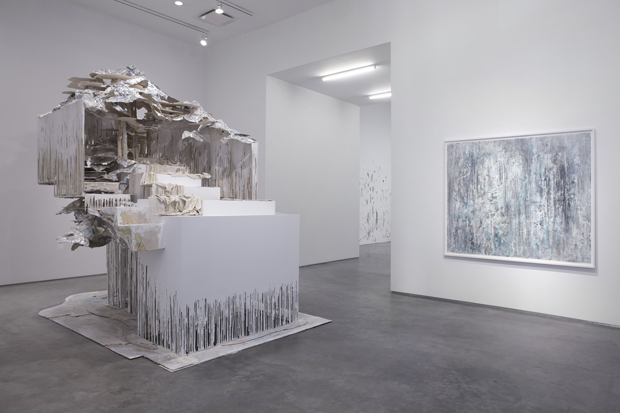 Diana Al-Hadid's Vanishing Point
Dr Kathy Battista of Sotheby's Institute of Art in New York reviews the new Diana Al-Hadid new exhibition
Diana Al-Hadid's practice has grown beyond a simple, single-handed production; yet, she still wields a paintbrush, drill, and blowtorch in her oversized Brooklyn studio. Born in Aleppo, Syria, Al-Hadid was an emerging artist when in 2009 she participated simultaneously in Unveiled: Art from the Middle East at Saatchi Gallery and Sharjah Biennial in the United Arab Emirates, where her Spells on Our Youth was featured prominently in the main square.
This solo exhibition is a landmark for the artist, who presents her most ambitious body of work to date. There are five works on show. The first gallery houses the room-sized At the Vanishing Point work, which tests the limits of sculpture. From the front it resembles a shrine, within which Al-Hadid has created the illusion of draped fabric that cascades down three large steps. From the side the sculpture reads differently: the feeling is one of closure, with sturdy columnar forms floating over the ground.
Divided Line is a sculptural drawing, with two sides that takes the form of a wall dividing the rear gallery space. A roughshod grid is incised into this. The artist liked the idea of using the grid to create a sculpted tapestry, which creates a 'surface' for the image - a composition of figures inspired by a Raphael cartoon that depicts Christ's charge to Peter. The resulting figures resemble ghosts suspended in a limbic state. From the alternate side, the viewer is unable to decipher the figures. Like seeing a tapestry from behind, only the warp and weft are seen in traces. Similar to Al-Hadid's two-dimensional drawings, figures and shapes are better discerned the further one gets from the work. Most spectacular is the negative space here - one can peer through the wall via the cuts on the surface.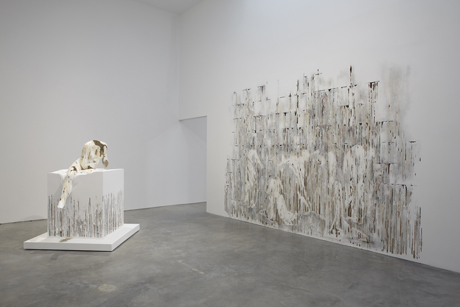 Adjacent to Divided Line, Suspended After Image is Al-Hadid's most elaborate work yet, occupying an entire gallery. The work is architectural in scale, resembling a temple or monumental structure with five steps leading towards to a central form. The artist attributes this as a "floating grid that is extracted into painted cubes" that trickle down in her trademark sculptural drips that suspend forms in space. A human figure that recedes into the steps, with only fragments of a prone body surfacing - a knee, a torso, an arm -reminds one of classical sculpture; however, the artist cites painting as her inspiration for this work, which is seen most evidently in the cascading form - taken from the embroidery on a cloak in a Spanish Gothic painting - that melts down the stairs at one side of the sculpture.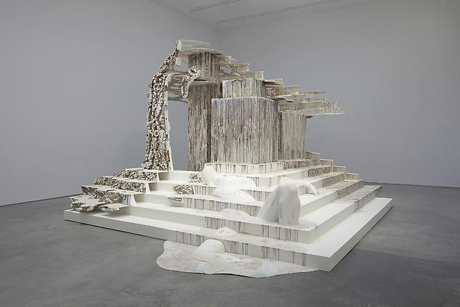 The mash-up of references in this spectacular work are indicative of Al-Hadid's project overall: images are suspended just at their vanishing point of existence and shapes defy gravity in a world teetering on collapse.
Diana Al-Hadid, The Vanishing Point, at Marianne Boesky Gallery, until Oct 20. 509 West 24th St, New York.