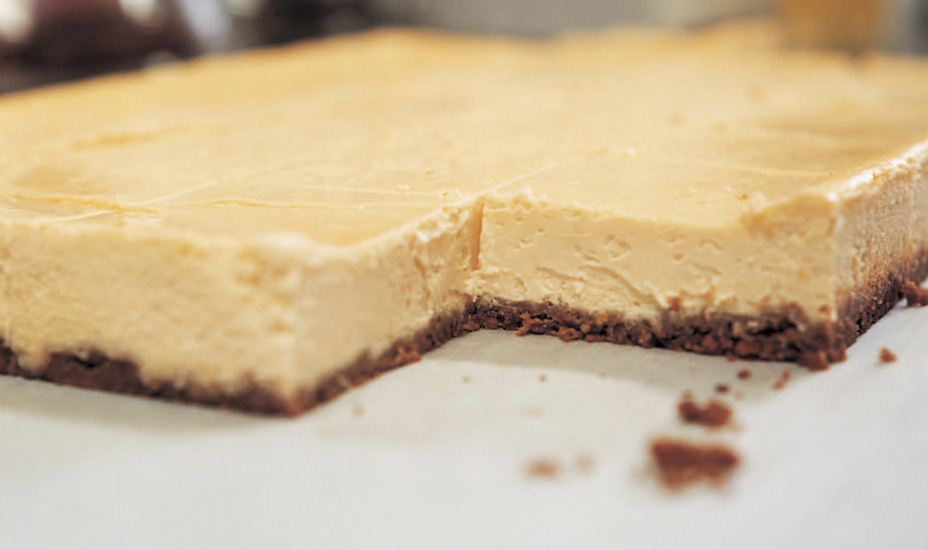 Ricotta cheesecake
A recipe from Breakfast, Lunch, Tea
Serves: 8
Ingredients:
unsalted butter, for greasing
800g (3½ cups) ricotta cheese
200g (scant 1 cup) cream cheese
130g (⅔ cup) caster (superfine) sugar
grated zest and juice of 2 lemons
1 teaspoon natural vanilla extract
pinch of ground cinnamon
5 eggs
1 egg yolk
200ml (scant 1 cup) single (light) cream
1 tablespoon plain (all-purpose) flour
For the base:
180g (7oz) digestive biscuits (graham crackers), crushed
60g (¼ cup) unsalted butter, melted
pinch of ground cinnamon or ground ginger
Method:
Preheat the oven to 180ºC/ 350ºF/Gas Mark 4. Butter a 25cm (10inch) cake tin with a removable base and line its base and sides with parchment paper.
To make the base for the cheesecake, mix the digestive biscuits with the butter and ground cinnamon or ginger and press the mixture over the base of the tin.
Mix all the ingredients for the filling together in the following order: the cheeses, sugar, lemon zest and juice, vanilla extract, cinnamon, eggs and egg yolk, cream and flour.
Make sure there are no lumps in the mixture.
Pour into the prepared tin, over the biscuit base, and bake for about 45 minutes, or until just set.
The filling must not get golden on top – it should be pale and just beginning to puff up.
Remove from the oven and cool the cheesecake in the tin before taking it out.