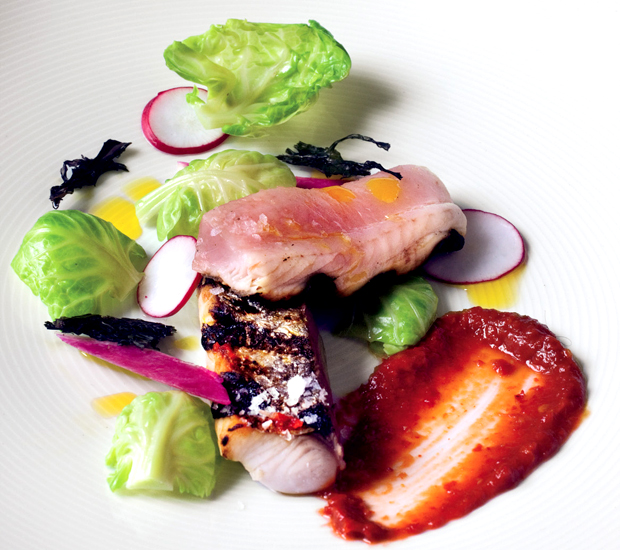 On the menu: David Chang's mackerel with kimchi puree
Mackerel, kimchi puree, oyster and radish
Serves: 4 people
Ingredients:
100g kimchi
grapeseed oil as needed
50g watermelon radish
50g red ball radish
sea salt
sugar
80g Brussels sprouts, dark outer leaves discarded
4 (110g) Spanish mackerel fillets
oil, for searing
white pepper
4 oysters, shucked
1g iwa nori
argan oil
Method:
Puree the kimchi in a blender or food processor. If thick, add a small amount of grapeseed oil.
Cut the watermelon radish into segments and toss with the pureed kimchi.
Slice the red ball radishes thinly and toss with a small pinch of salt and a large pinch of sugar to make a quick pickle.
Pull apart the Brussels sprouts, separating the leaves from the cores. Discard the cores. Prepare an ice water bath and put a large pot of water on to boil. Once it's at a rolling boil, salt the water very well and quickly blanch and then shock the Brussels sprouts leaves. Drain well and reserve.
Season the mackerel with salt and white pepper. Heat a puddle of oil on a plancha, flat-top, or wide skillet over high heat. After a minute, add the mackerel skin-side down and sear it until the skin is blistered. Remove from heat and set aside.
To serve, put a dollop of kimchi puree on each plate and smear it with the back of a spoon. Cut the seared mackerel in half and stack the pieces on top of one another.
Arrange slices of red ball radish around the plate; nestle the shucked oyster up against the seared mackerel; arrange a few blanched Brussels sprouts leaves on the plate, scatter with the watermelon radish and iwa nori. Dot with argan oil and serve.