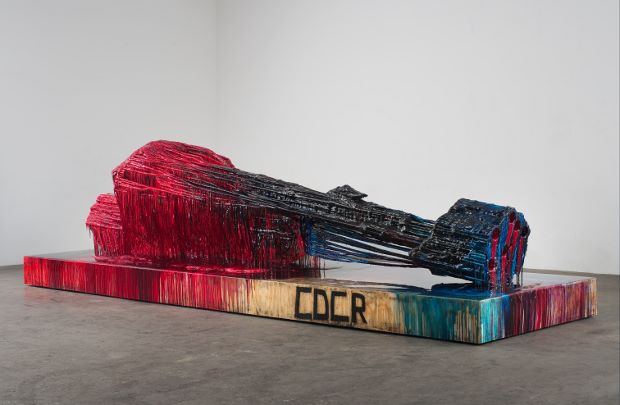 See Sterling Ruby and Paul Schimmel next week
The Phaidon artist talks to the former MOCA chief curator at the launch of Ruby's solo exhibition
Sterling Ruby, the 40-year-old, LA-based artist, featured in our Vitamin P2 book, has been described by The New York Times as "one of the most interesting artists to emerge in this century". In the same piece, The Times' critic, Roberta Smith, quoted Ruby's early poster slogan, "Finish Architecture. Kill Minimalism. Long Live the Amorphous Law." It might sound a bit abrupt, but this line remains a good key to undertanding Ruby's dirty, scrappy, grungy, part finished art.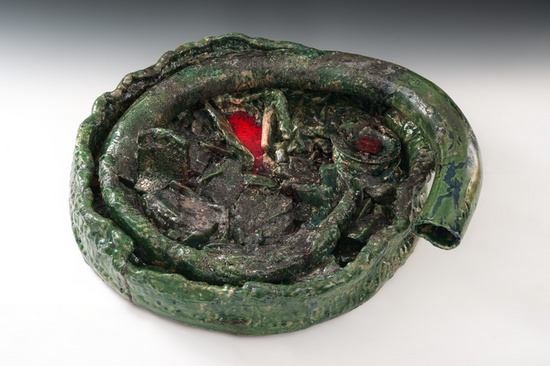 Born on a US airbase in Germany, raised on the East Coast of the US and now based on the West, Ruby makes bright collages, sculptures and paintings, that look both poppy and a little sinister, both modern and primitive.
Whether Ruby will offer any pithy summations, when he comes to London next week to open his new show is unclear. The exhibition, entitled EXHM and running at Hauser & Wirth on Savile Row from March 22 – May 4, looks like a typically enigmatic affair. There are misfired ceramic vessels, scrappy fabric colleges, and huge poured urethane sculptures. A hot mix, indeed, occupying a place somewhere between Robert Rauschenberg, Mike Kelley, Franz West and Paul McCarthy.
Thankfully, legendary LA curator Paul Schimmel will be on hand to provide illumation. Schimmel, who served as chief curator at Los Angeles Museum of Contemporary Art, from 1990 until last summer, gained a fine reputation not only for the exhibitions he oversaw, his love of what some people might term difficult art but also for his plain, straightforward manner. Anyone after a greater understanding of Ruby's work should try to catch him in conversation with Schimmel at The Royal Institution of Great Britain next Tuesday, March 19th.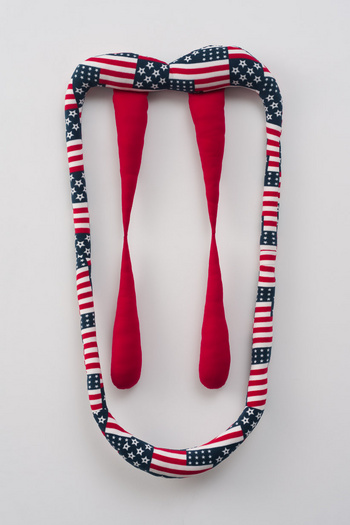 Admission is free, but an RSVP is required. For more, see Hauser & Wirth's Facebook page; for more on the exhibition, go here; and for further insight into both the work of Ruby and his contemporaries, please consider our Vitamin P2 book.